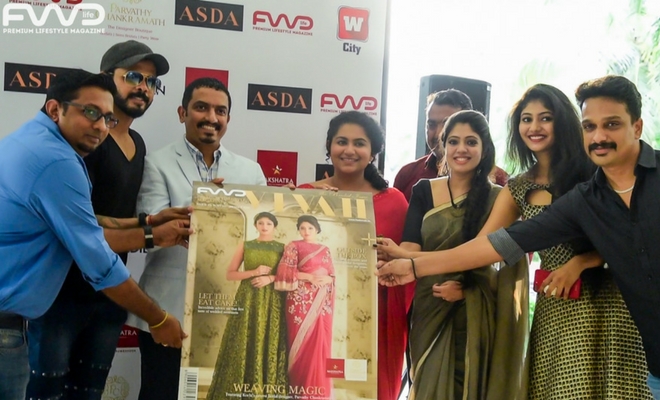 FWD Vivah Cover launched at Le Méridien Hotel
|
FWD Vivah, its latest issue featuring two budding actresses on the cover, wowed audiences at the launch last Sunday
Images: Anand A N
The latest cover of FWD Vivah, featuring Drishya Raghunath and Veena Nandakumar, was launched at Le Méridien Hotel here. The launch was followed by the yearly ritual cake-mixing ceremony of the hotel.



The event began with the MC, Rochelle D'Souza, inviting the guests. The general manager of Le Méridien Hotel, Tejus Jose, bridal designer Parvathy Chankramath, managing director of Nakshatra Gold and Diamonds, Vinu Jose, photographer and director, Aniesh Upaasana, the cover girls and actresses, Drishya Raghunath and Veena Nandakumar, and a special guest, former Indian cricketer, S Sreesanth were invited to the dais.



The dignitaries on stage were then asked to formally launch the cover of the October 2017 issue of FWD Vivah, following which, copies of the magazine were distributed to them by FWD Media representative, Abhilash Manohar.


The MC then invited Drishya and Veena to speak about their experience working on the cover shoot with FWD Media. Both actresses spoke at length about how wonderful it was to work with photographers Aniesh Upaasana and Jinson Abraham and about a time in their lives when they'd look at issues of FWD Vivah and wonder if they'd one day grace the covers. "It was truly a dream come true!", they said.


Following the speeches, mementos were presented by S Sreesanth to the core team who worked for the photo shoot – the designer, Parvathy Chankramath, who provided the costumes, the stylist, Ekta Bhatted, the photographer, Aniesh Upaasana, and the makup artist, Vikas Vks.


The gathering was then invited to participate in the cake mixing that followed.