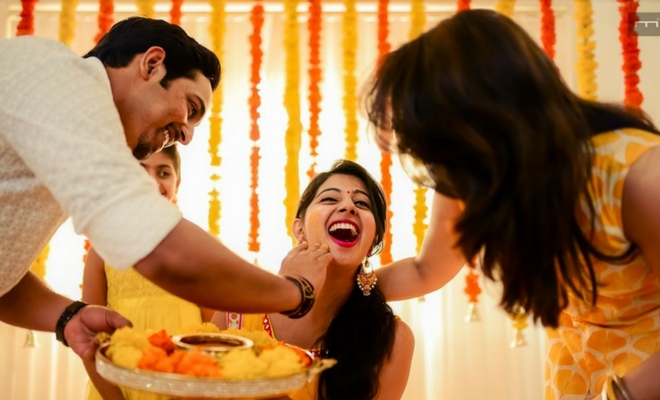 The One Shot Wonder Bride
|
Who would've thought a simple video could create such a buzz
Text: Devika V Menon   Photos: Magic Motion Media
People are calling her the 'one take wonder' bride, ever since the video went viral on the internet. Proper planning, execution and patience. With almost 6 lakh views on YouTube, this video is something you must watch, even if you're not getting married anytime soon!
It's honestly boring to watch a wedding video, unless you're the ones in it. But Dalia and Magic Motion Media created literal magic together. This one shot video is fun, with everyone coordinating their outfits to match Dalia's yellow outfit. The whole house is decked up in yellow, to celebrate her haldi! Watch it here if you haven't already
Now that you've seen the video, there might be a few questions in your mind, right? Who else to answer them better than Dalia Benedict herself?


On a scale of 1-10, how difficult was it to capture the whole video in one shot?
I'd say 3, because we had to have a complete retake from the beginning if anybody made a mistake in between. Since my whole family enjoyed doing it, retakes weren't really a problem. It was done all in the spirit of joy and happiness.


Did you go through a lot of retakes or were you guys successful the first time round?
No retakes as such, thankfully. We had several practice sessions to check for the timing and placement for each person to shift positions. But yes, it did take a lot of patience and effort from all of us collectively.
How long did you have to plan to get the whole thing in action?
Frankly, there wasn't much planning or homework involved. It was more or less spontaneous and casual.

Who's idea was it?
The brain behind the video is Mr. Ruben from Magic Motion Media, Ernakulam.


Did you expect the video to go VIRAL when the idea popped up initially?
Not at all. My whole family just wanted to have fun and create some beautiful memories for lifetime. That was our only intention but by God's grace it all turned out to be this successful.


How are you guys dealing with all the attention?
I acknowledge any compliments and reviews that I come across. I am happy to see that everybody is enjoying watching the video, just as much as we enjoyed making it.