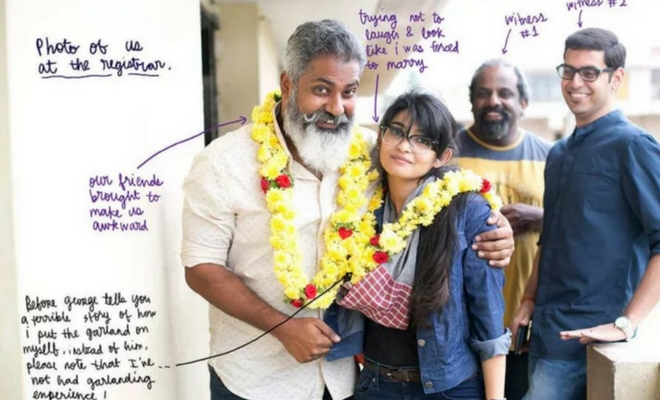 When George Seemon Married Alicia Souza: The Impromptu Wedding Tale
|
This Bangalore-based couple is giving us major couple goals with their "happily ever after"
Text: Susmitha Suresh   Photos: Various Sources
How do most love stories go? Boy meets girl, boy pursues girl (or vice-versa), girls says yes, they get married and the end. That 'the end' is where this story begins. Bangalore-based couple, George Seemon and Alicia Souza announced their wedding online. It seems all too normal even then. But wait for it.
She announced it online by dedicating a whole website to him! Now that's what we call a profession of love! The website titled, 'Dearest George', is cute, it's adorable, it's witty….we pretty much can't stop talking about how much we loved going through it.

Naturally, we wanted to know about his side of the deal as well. FWD Vivah got in touch with him to ask a few questions that popped up in our minds.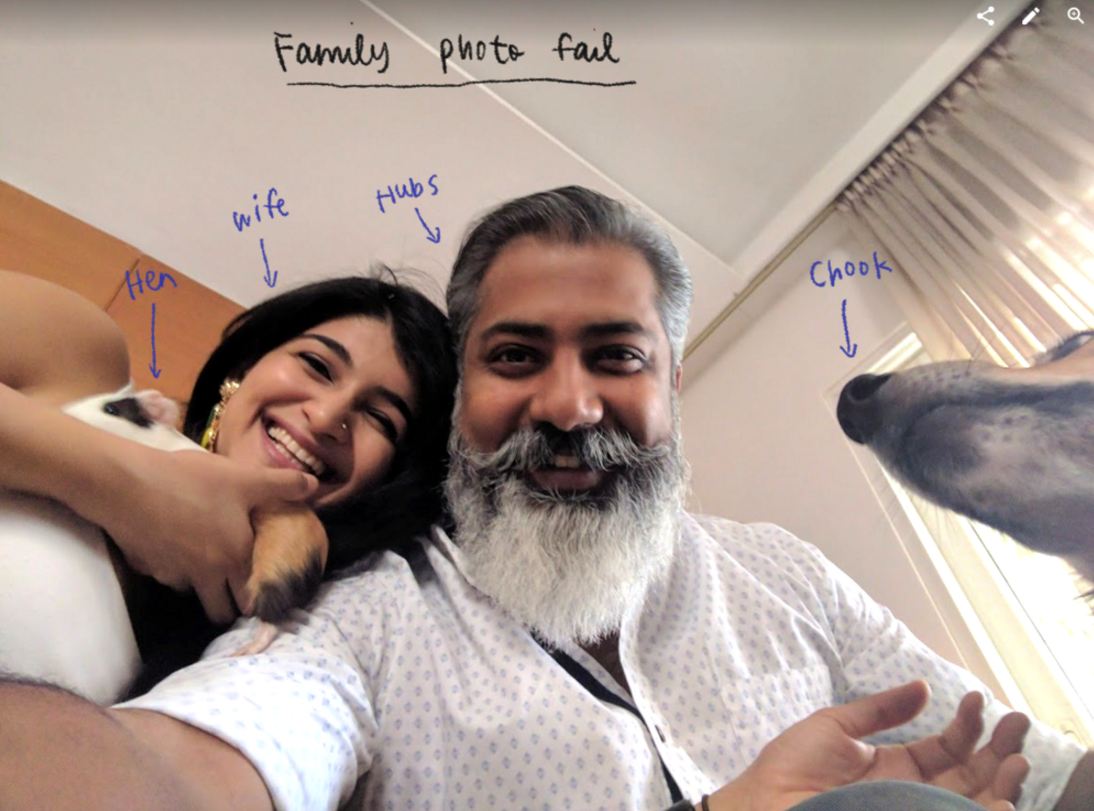 Your wedding happened with an almost casual 'Hey, let's get married today' touch to it. Was it really that spontaneous or is there more to the story?
I think the idea of not planning it made it unique. It was planned based on a day we had fewer errands, the convenience of our witnesses and the horridness of traffic. It worked out perfectly as we had a few friends show up with cake and a garland and we went for lunch right after. It was small and sweet! We had to get a combined loan for our new house and the bank said we need to be married for it. Even though we were planning to get married anyway, it gave us a valid reason. And of course the fact that the family wanted us to get married for a while!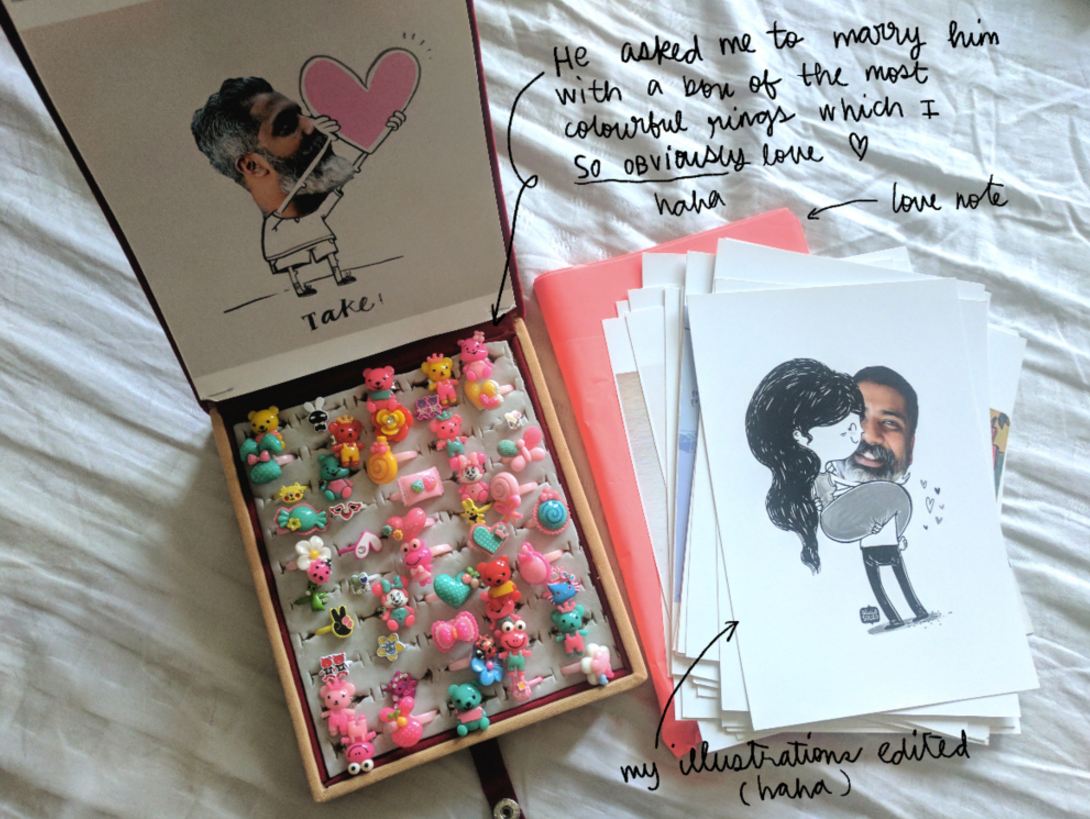 In another picture, we see that you asked her to marry you in a unique way as well. How long did it take you to come up with the whole thing? What prompted you to propose the way you did?
Well, she brought up how she would rather have a standing mixer than a ring (yes you read right) if I ever proposed, so that was clear but then I needed to know the model number of the mixer (which was difficult to find and would blow my cover if I asked for it). So the other option was to buy a ring to start with and then get the exact mixer she wanted later, but then I didn't know her ring size either. So I came up with this brilliant (and corny now think of it) way to get many colourful rings to see what fits best and then get her the real one later. Me editing my face on all her illustrations was just to reconfirm that the lovely illustrations she made were all of me. And of course finally, to seal the deal, the making of the "Kerala beef fry" …because you can't say No to beef fry.
What is your take on weddings in general and of having a big fat Indian Wedding that many aim at?
I will not say don't do it. To each to their own! We found happiness in what we did. The same amount of love we would have had from a big wedding, less stress and more savings to buy some good furniture for our new house.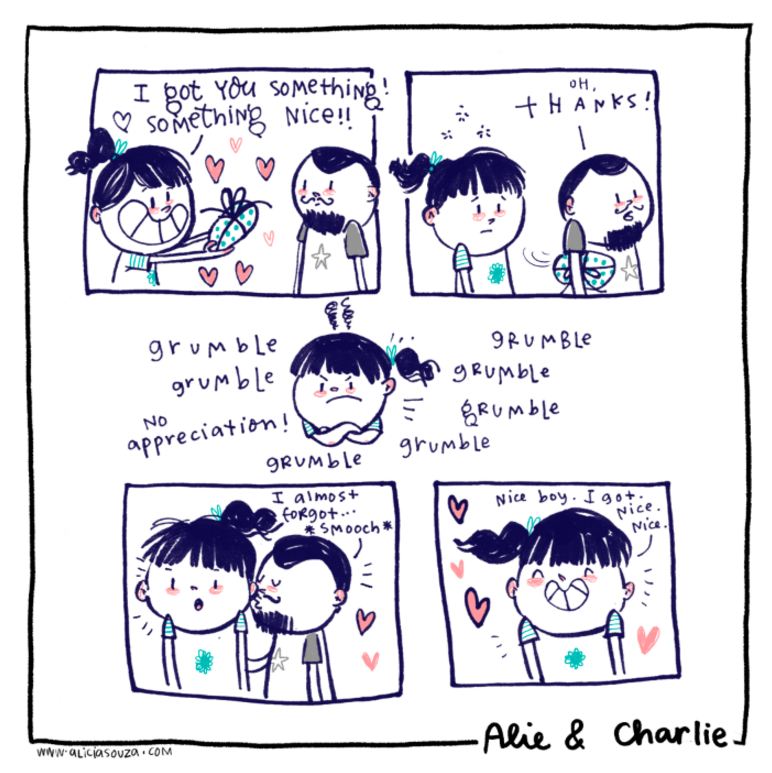 Are you actually secretly a romantic at heart, or did you turn romantic for her?
I doubt I'm romantic! And Alicia would agree about that! haha. She really is the romantic one between the two of us!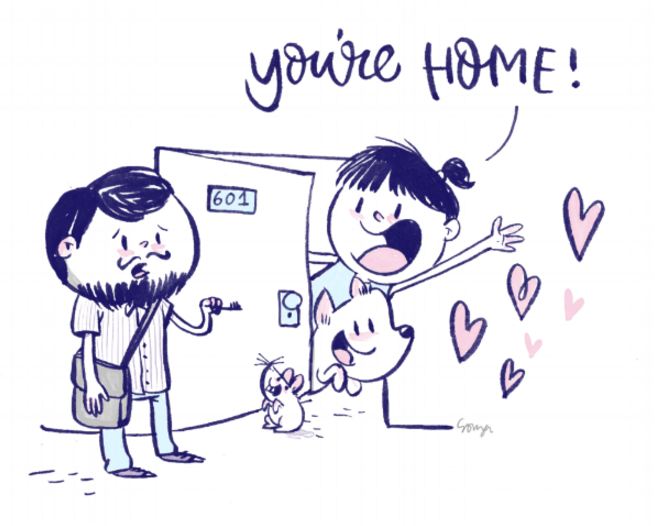 How would you describe Alicia?
She is a happy soul, She can not dislike anyone! She sees happiness in things we normally wouldn't (for example when she sees a cow take a pee, she glows with delight). She loves stories, she loves her work and is weirdly perfect.
We hope that the happy couple has a long and happy life together ahead of them. You can check out more of Alicia's quirky drawings here.