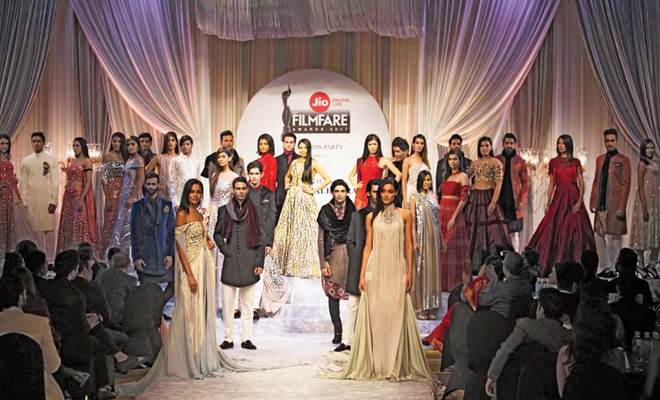 Manish Malhotra: 26 Years in Fashion
|
Describing his designs as unapologetically glamorous, world renowned designer Manish Malhotra shares his passion with FWD Media.
Words by FWD Media    Photographs from Manish Malhotra
Manish Malhotra is a man with a vision and a mission. His haute couture is always the talk of the town and he is a favourite with the A-listers. What drives this design genius and what is his plans for the new year? FWD chats with the world renowned designer and clues in on the whole nine yards.
What is your favorite part of being a bridal designer?
My job gives me wonderful opportunities to work with different personalities every now and then. From styling stars to creating my own label, my 26-year journey has been all about telling stories in the language of fashion. My work not only allows me the freedom to move around but also find inspiration in everything around me. Many think that a creative pursuit is a solitary one but, I thrive on the energy of exchanging ideas and finetuning on every step of the way. I love sitting with brides-to-be and adapting my designs to their personalities. Being who I am today enables me to encourage my brides to wear their heritage weaves with a modern twist and revive Indian craft at the same time. I feel like I was born to do this.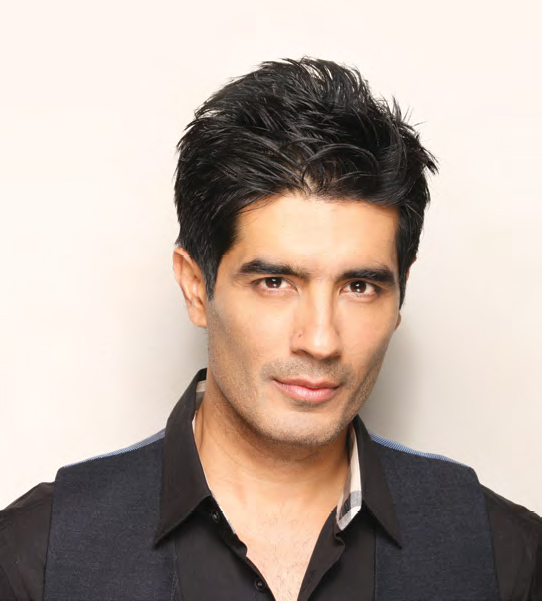 What do you predict for bridal fashion in the next season?
Every year, weddings seem to demand novelty of some kind. The upcoming season will see Indian bridal wear become increasingly more global in its expression. Bridal couture will become more artistic, modern and bespoke. Meanwhile, I will, continue to infuse tradition and heritage into modern silhouettes and evolve the Manish Malhotra signature.
Why did you choose to move from Bollywood stylist to bridal designer, when the natural course would have been to delve into prêt-a-porter?
Looking back, I think I couldn't have had a better training ground to feed my passion for fashion through movies. I was always fascinated by the costumes as they are subtle, yet important part of the visual story-telling process. I have loved sketching since I was young and always dreamt of designing the most beautiful garments for movies. To me, styling and costumes seemed like a natural progression to bring all these together by way of a career. It is humbling to see every Bollywood star wear MANISH MALHOTRA in the nineties, and even today. In a culture where people idolize film celebrities and their sense of style, that fan following definitely propelled my success as a designer. However, after a vast repertoire of work and significant success in that sphere, I wanted to be known for more than just styling glamorous women. For me, the key to evolving professionally has to come from the ability to reinvent myself, and pave new avenues for me and my label.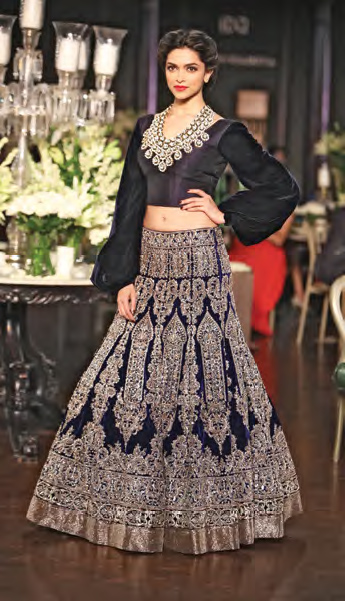 You introduced blue as a bridal color and it was widely loved. What are some shades that you would like to introduce as a bridal colour option?
Moving aside from the rich jeweltoned palette, the overall colour scheme is slowly becoming more subtle and classic this season. In my opinion, hues of ivory, coral pink, powder-blue, lilac , champagne nude and metallic grey would serve as the perfect replacement to the monotony of the evergreen reds and maroons.
Which international celebrity would you like to style and why?
I would love to dress Madonna and Meryl Streep someday! They are style icons who are individualistic and wear their personality best.
India is a land with a lot of indigenous embellishments and handworks. Which are some of the works that you think deserve more attention?
The wedding season sees a transformation when it comes to both craftsmanship and embroidery. Craft and fabrics help revive old world charm and are, thus, more intense. My previous three to four years of couture work has been focused on reviving old structures, patterns, style and embroidery that are a blend of oldworld charm on modern silhouettes. The beauty of older films, old architecture, my travels and so on hold a special place in my mood-boards.
Lately, I have worked extensively with Kashmiri craft. It has been 4 years working with Mijwan Welfare Society and empowering women from the Mijwan village in Uttar Pradesh. In the spirit of supporting our indigenous heritage, I started working with local weavers and artisans of Benaras and Andhra Pradesh this year. I think, as responsible senior designers, we must focus on our culture, textile, and fabric. For the modern, confident neo-bride I have tried to bring together high glamour with intricate craftsmanship – the delicate Zari work on each piece is specially done by the finest craftsmen in the country. Elements like Vintage motifs, old-age mirror work, cleverly placed sequins are all part of the intricate detailing that help add magic to every outfit. With an innovative use of textiles and vintage elements- my collections are the perfect blend of romance with a distinct old world charm.
What are the quintessential things to keep in mind when picking out a groom's ensemble that will keep him at par with the bride of today?
While the options remain a bandhgala, sherwani, or a kurta, what we see are grooms paying a lot more attention to the overall look, combination of colours, texture of fabric and embroidery. In the case of men, a good fit is often very crucial. Even though they are free to experiment with colors, the optimal choice for colour would be one that is subtle yet different with reference to drape or cut of the outfit. Thus, for the modern grooms, I have introduced new drapes and cuts for their outfits. Silhouettes to go for would be interestingly layered modern and traditional pieces together to elevate the style element of the contemporary groom.
From brides a decade or two ago to now, how have things changed?
The wedding market has evolved a lot over the years through styling in movies that showcased modernity of Indian clothes. Today the bride embraces her traditions with grace and panache. They are now opting for high fashion looks that are straight off the runway. They embrace traditional outfits with western cuts that reflect their contemporary approach to their rustic cultural heritage. I see people dress more openly according to their personality and that gives us designers more leeway in experimenting with different styles for different sets of audiences. I see a lot more individuality and a great mix of style and fashion. They have become a lot more experimental and thus, bridal couture too, is becoming more artistic, modern and bespoke. Today, they are wearing crop tops and off-shoulder cut-out blouses with lehengas. Fashion aesthetics in India are thus, increasingly becoming more global in their expression.
How do you think social media has changed how brides choose their wedding wear?
I would love to embrace social media. It is such a fantastic, democratic tool to bring fashion directly to a consumer. It is no longer just about seasons, for a label it is about analyzing consumer preference. It is all now about a trend being accepted across countries, at the click of a button. Brides are also changing – they are a lot more social media savvy and have great global influences. They want more contemporary, versatile and diversified looks. A classic example of this was my deep blue lehenga worn by Deepika Padukone at India Couture Week a few years ago. Young brides saw it up on social media and 2 days later we had an overwhelming amount of orders for blue lehengas.
What can we look forward to from Manish Malhotra in 2017?
2016 has been a milestone year for me as I completed 26 years in the industry, the label completed 11 years and we just moved into a new office. We are constantly working on new projects – be it in cinema or couture. The label's future is constantly evolving. This year I want to focus more on production to ensure that I am able to match the demand at my flagship stores in Mumbai and Delhi in addition to the stores that host my clothes in India and overseas. Also, I am planning retail expansion, thus, the plan is to focus opening flagship stores in Dubai and London as well