Hide out at Harvest Fresh Farms
|
Harvest Fresh Farms in the lush, fertile Cumbum Valley, Tamil Nadu is a haven for those looking for a verdant hide out.
Words and photos from Harvest Fresh
Set in the Cumbum valley of Tamil Nadu, Harvest Fresh Farms offers a refreshing and rejuvenating farm experience to tourists. The farm offers authentic farming activities in their vicinity, ranging from fruit orchards, apiary, livestock rearing farm, a unique herbal garden with more than 150 varieties of plants and herbs, etc, all of which play a significant role in discovering the organic farming experience. The farm has been certified by INDOCERT (Indian Organic Certification Agency) The farm stays helps people to recognize the importance of organic living and rediscover the joys of living with nature. Both tranquil and awe inspiring, it will be definitely be a vacation that will leaves your mind, body and soul rejuvenated like never before.

In the lap of nature
Harvest Fresh Farms is located at the Lower Camp, which is only 12 kilometers from Thekaddy, a major tourist destination. Today, when everyone is obsessed with gadgets and technology, the farm promotes a healthy lifestyle in connection with nature. The farm believes this discovery of nature will improve the health of people and generate a better respect for the environment. An abode for animals, this is the ideal place for families and children to interact and gain first-hand knowledge about both plants as well as animals.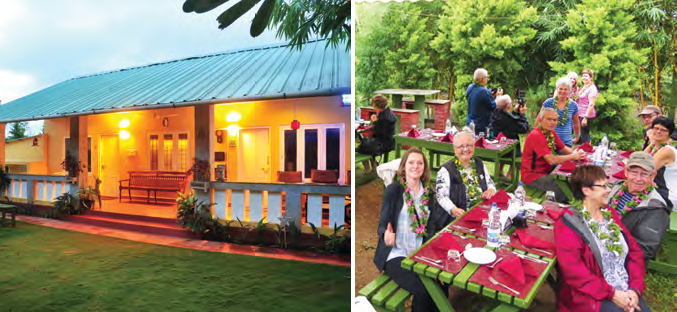 A typical farm visit begins with the guests at the farm welcomed with freshly squeezed fruit juice, nurtured and grown in the farm. A bullock cart ride is conducted around the farm with a seasoned guide who will explain the processes involved in organic farming of the various fruits and vegetables cultivated at the farm. The climb up the watchtower will give you a complete view of the pure and wholesome valley. After the tour there will be a grand feast made with fresh, local products from the farm, prepared as per the local cuisine. There are many local and foreign tourist groups from Trichy and Madurai who head to the farm, enjoy a guided farm tour and proceed to Thekkady and Munnar after lunch and engaging in various farm activities like tractor ride, jeep safari, trekking, cycling etc.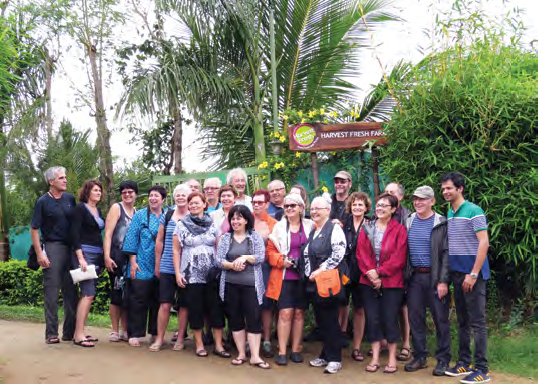 Green Initiatives
Harvest Fresh Farms not only cares for their guests, it also takes huge steps towards protecting nature. The fruits and vegetables used in the kitchens are completely grown within the farm, and the waste from the kitchen is used to make biogas. Cow dung and urine is combined to form manure, which is used in the farm, and they also produce traditional manure like Jeevamritham and Panchagavya. Compost for use in the farm comes from garden waste, coir pith, and other organic waste. The farm has won awards and accolades for their efforts, including the South Asian Travel Awards 2016, recently awarded in November. The farm promotes agritourism, and also helps people realize the value of what nature has to offer and how it benefits each and every one of us, in ways that our normal lifestyle might not.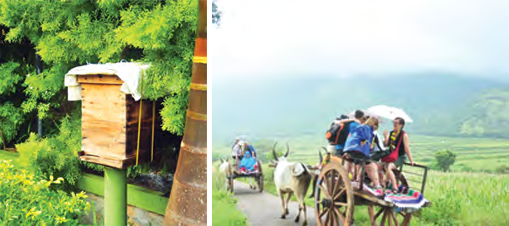 How to reach
By Air: The nearest airports are Madurai at 140km and Cochin at 190km. Fly to either of these two cities and hire a cab to Thekkady, which is a 15 minutes drive to Harvest Fresh Farms.
By Rail: The nearest railhead is Kottayam at 114km. You can travel to Kottayam and then hire a cab to Thekkady, and then Harvest Fresh Farms.
By Road: Thekkady is well connected to the major cities of Tamil Nadu like Cochin, Madurai, Kottayam, Munnar and Trivandrum via state and national highways. Buses are run by the Kerala State Road Corporation from these cities to Thekkady. You can also hire a private cab to Thekkady.