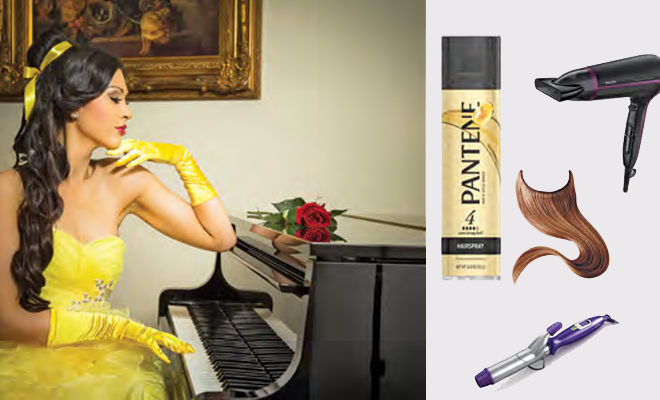 Disney Inspired Hairstyles For Your Wedding Day
|
When making a bride look like a princess, a lot of inspiration can be taken from our favorite Disney princesses for a fairytale ending
Words by Pooja Salva    Photographs from Various Sources
For a girl, wedding means feeling like a princess, wherein everyone makes her feel like one by pampering her.A wedding hairstyle can be given a touch of magic with the help of all the old favourite hairstyles and a few new ones. Some of the Bridal Tresses in Disney princess hairstyles that a bride can choose on a wedding day are:
Ariel from The Little Mermaid
Ariel was the only red head of the Disney Princesses and the brides can go for the volume and bounce of Ariel's flowing locks. When recreating Ariel's hairstyle, the rule is luscious and long with beautiful rippling waves with a help of a curling iron and a hairspray.
Belle from Beauty and the beast
Belle's hairstyle can be perfect bridal hairstyle for the brides. A half-up-half-down do, with tumbling curls and face framing waves can never go wrong on the wedding day.Just pin some of those hair back and add a sparkly hairpiece for that beautiful wedding hairstyle.
Cinderella inspired hairstyles
Cinderella, known as the most beautiful Disney Princess is the perfect inspiration for a regal, elegant looking wedding day hairstyle. The high bun oozes sophistication and would work wonderfully with a traditional gown and a tiara.
Elsa from Frozen
Everyone loved Elsa when the movie Frozen released. Her hairstyle was a rage among every girl. The messy side braid with loose hair falling from the sides can make a statement and will make you want to stand out for your wedding.
Jasmine from Alladin
Jasmine's pushed back style can be opted for your wedding day by the brides. This hairstyle will accentuate the facial features and give a more finished look.
Magical Hair like Rapunzel
If you are one of those brides with long and silky hair then a hairstyle inspired by Rapunzel will be best suited on your wedding day. The flower plaited braid will not only make your hair look beautiful but it will also be something creative and new to try on your wedding. This hairstyle can be accesorised with flowers and can be opted for those with short hair too. All you need to do is add extensions to your hair for that Rapunzel look.
Playing With Perfect Curls
If you are in love with curly hairstyle, Cinderella and Rapunzel won't be your dream come true. Here are some looks for you:
Tiana from The Princess & the frog
Curly hair Brides can feel the happiest since Tiana's curled up do is one of the favourite Disney Princess hairstyles out there. Not only does it show off that pretty face of but it looks gorgeous with a hairpiece or veil.
Aurora from Sleeping Beauty
Aurora's bed head hair is a perfect example of a carefree bride. Just add subtle waves and loose ringlets towards the tips using a curling iron and accessorize with a beautiful headgear or a tiara that will go perfectly with that white gown.
Merida from Brave
For all those boho brides, this is a perfect wedding hairstyle for you. Al you need is a creative boho bun with loose curls and become the perfect boho bride for your wedding. A DIY strategy would be to take small sections of slightlydamp hair, wrap/roll them tightly with a straw, and then tie the straw into a first-stage of a knot. The straws actually hold up fairly well.