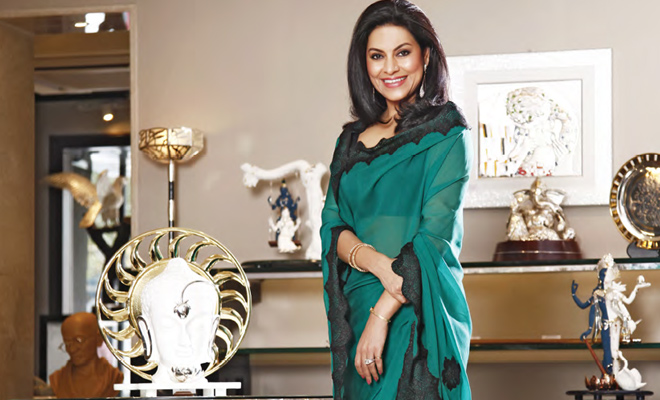 SHINE BRIGHT LIKE SILVER
|
For Archana Kumari Singh, President of Frazer& Haws India, blending our culture with the luxury of the business is the prime goal
Words by Likhitha P Nair    Photographs from Frazer & Haws India
Those of you pop-culture inclined folks would relate to the pre-wedding scene in the American sitcom 'That 70s show' where Eric Forman and Donna Pinciotti goes hunting for silverware. Donna is confused, while Eric is nauseated. And the helpful assistant at the store tells them, 'the trick is to never go with the first design you see'. Wedding silverware is a concept that has recently made a foray into luxury Indian weddings. The elegance and grace that silver brings to a wedding set is unmatched.
Frazer & Haws, one of the oldest and most trusted names in global silverware, started in India about a decade ago and house nearly 200 Indian craftspeople, all belonging to sixth and seventh generations of silversmiths and goldsmiths. The brand constantly reaches out to founding designers in London to bring to the latest designs and trends in silverware to India. In 2002, when Archana Kumari Singh joined Frazer & Haws, she was positive about the impact she could make in her home market with luxury products. Her ties with erstwhile royal families in UP and Rajasthan made the job easier for this dedicated trendsetter. Today she helms the brand in the country as president of Frazer & Haws India. FWD spoke with Archana on the scope of silver shine at Indian weddings.
What is the market for silverware at wedding functions here in India?
Silver is not just an elegant piece of luxury when considering wedding gifts but also traditionally auspicious. The metal is beautiful, affordable when compared to any other precious metals, is malleable and allows creative expressions. Most importantly, it endures the test of time and can be secured for generations to preserve memories or family heirlooms.
Do you deliver customised silverware to your clients?
Yes, Frazer and Haws is a wellknown brand for customised products. Because we are an entirely handcrafted product line, we can make anything our clients wish for – be it a large wall art, temple murals, trophies or gifts. We work as per the client's brief after understanding the need, occasion, budget and so on.
As a 'luxury' brand, who falls under the list of target customers?
The lines that demarcate high-net worth individuals and the middle class has blurred considerably. Today almost everyone can afford 'luxury.' While earlier many were intimidated to walk into our stores, now they do so with confidence because they have the purchasing power and also covet high brands.
What are the challenges you face while promoting Frazer & Haws?
It is a challenge to explain the real meaning of hallmarked sterling silver to consumers in India. Often they think it's not 'pure' silver. There is also the time limitations of hand craftsmanship. We have to reiterate the fact that it is a laborious process as compared to anything that is churned out by machines.
What is the speciality of your designs?
Frazer and Haws believes in originality of concepts and designs. We have a team of designers in London and India who constantly brainstorm for new ideas. Our strength also lies in the way we mix and combine metals and materials in our art pieces.
What criteria do your clients usually list out before choosing their designs?
Budget, if it's a gift, but if for themselves then that is stretchable. Occasion, a broad product category like tableware or divine icon or a décor piece. Gradually we guide them to narrow down their focus before the final selection
Spicing up your wedding with some silver is quite a charm. Here are few things to note.
Traditional Indoor Hindu Wedding
Wall installation with plenty of diyas or candles should work well as it will not occupy the indoor space too much and yet make the ambience festive. If the diyas used are silver, it would be add to the beauty with its pristine look.
Indo- Western Church Wedding
Definitely a 3 or 5 armed candelabra in silver – Victorian in styling – at the alter and flanked by smaller silver candle stands with flowers would make for a stunning alter decor.
Rustic Outdoor Wedding
One can never go wrong with lights – outdoors or indoors! Plenty of hand hammered copper or brass t lights placed generously will lend a magical glow to a rustic outdoors. The Safari Deer tables by Frazer and Haws would be just apt for such a occasion since they fit beautifully in an outdoor locale, the horns hold up candles and the back holds the table – so functionality combines with aesthetics for the special celebrations.
Indoor Muslim Wedding
Experiment in cutlery with attractive silverware. Plenty of flowers would add to the look.