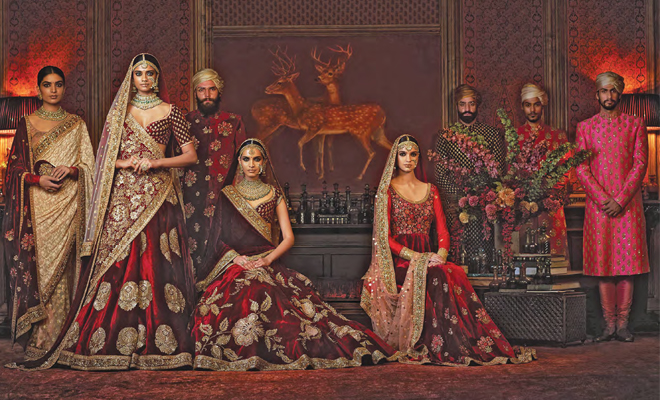 BEHIND THE BRIDAL DREAM
|
Sabyasachi Mukherjee, one of India's most-acclaimed designers, calls himself 'a man who makes pretty clothes'
Words by Likhitha P Nair    Photographs from Sabyasachi
Being described as India's 'dream wedding designer' is no simple task, it is herculean. And Sabyasachi Mukherjee has earned this jewel on his crown in just one decade. For someone who had to sell his books to get into a design college, he takes his art very seriously. Sabyasachi is a brand that has never forced its evolution or signature. To be describing your philosophy as 'personalised imperfection of human hand' takes courage and confidence. His brand has meticulously reflected a whole civilisation in its designs. Deserts, gypsies, prostitutes, antique textiles and cultural traditions of his home town Kolkata, have been inspiration for the designer who believes that "clothes should just be an extension of one's intellect.' Sabyasachi was in Kerala for the first ever India Fashion Summit. FWD gets in conversation with the man who has dressed up India's most striking and Bollywood's most favourite brides.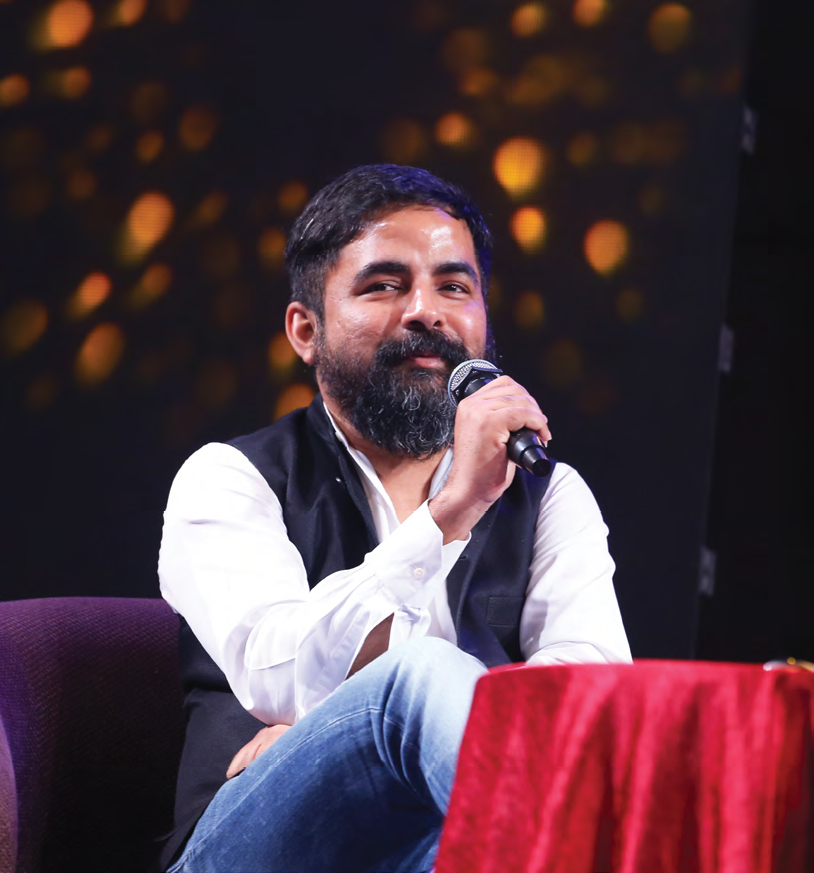 What is your favourite part of being a bridal designer?
Being a designer comes with a lot of perks. I get to travel, meet a lot of people. Your work constantly evolves, there is no boring cycles or monotony and this helps the mind stay young. When it comes to bridal designs, we are happy that brides-to-be trust us to look good on the happiest day of their lives. Even while most of them usually wear short skirts or western outfits, they ultimately like to be a Sabya bride with their jhumkas, gajjras, red bindis and lehangas. It makes me feel very validated. They could be anyone outside but on their wedding day they come to us and that makes Sabyasachi a brand with deep-rooted values.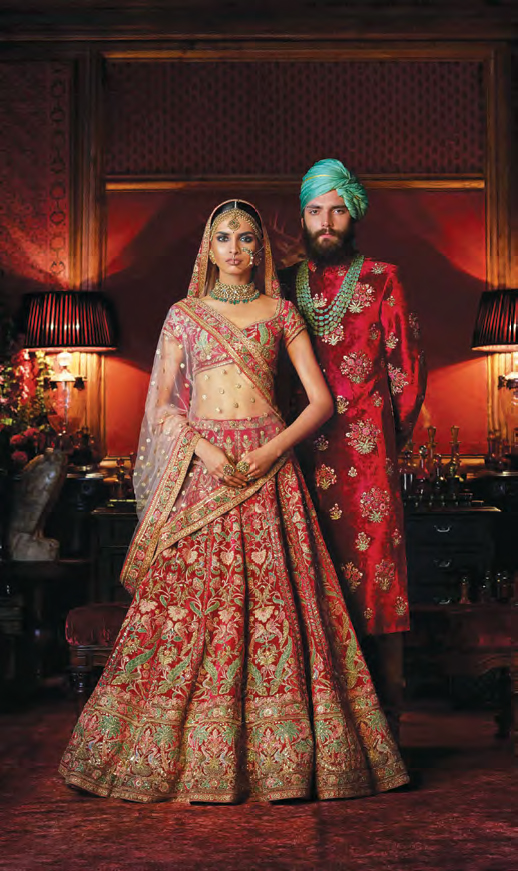 What do you predict for India's future in fashion?
The Indian fashion industry was formed way before I was born and through its course it has managed to inspire people from around the world. As globalisation progresses and the world becomes a little more mechanised, people are going to become more aware, more confident, and distances are going to decrease. There is always going to be the question of who is going to be the next big buyer and next big brand, or which is going to be the country that takes the world of fashion forward. For every question, the answer is going to be India.
The reason being that today, when you look at patterns and consumer behaviour from all over the world, big international brands selling luxury items are finding it hard to attract customers. People are not looking for the product anymore. They don't expect their handbag or tailored suit to become their next best friend, instead they look for the experience. They look for things with a good culture-quotient, one that could bind communities, and things that reflect the restoration of economic patterns around the world. When we start gauging customer experience like this, we find out that more and more people are going to approach India looking for real-time experiences.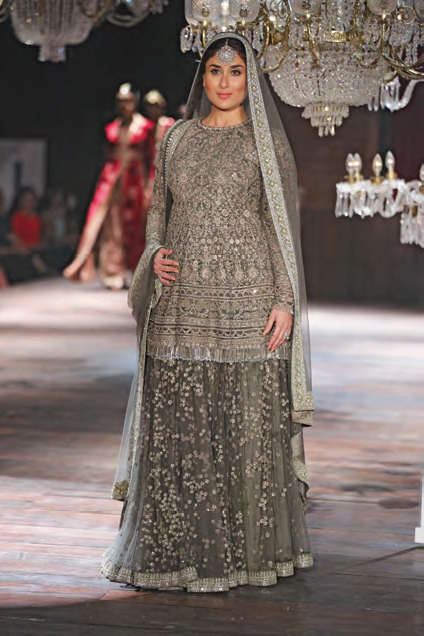 When you say luxury in fashion is going to change it's meaning, what do you think it is evolving into?
People are not moving towards consumption-oriented fashion but towards fashion which is focused more on wellness. Nothing can really be successful in the world if there is no latent organic need for it that is already existing in the minds of consumers. To substantiate this, I would like to mention a personal experience. A friend of mine worked in advertising in the UK. He used to wear good clothes, was friends with Madonna and I always looked upto him. After the financial meltdown, he once made a late night phone call to me. Over the call, he broke down and cried, saying he lost his job. I consoled him, saying you are a smart man, you could find a job anywhere. He replied saying that he lost his home, which was on mortgage. And all he was left with were his expensive accessories and suits staring back at him. That was a moment of realisation for me. It was a proof that consumers cannot balance luxury and life by just buying expensive things.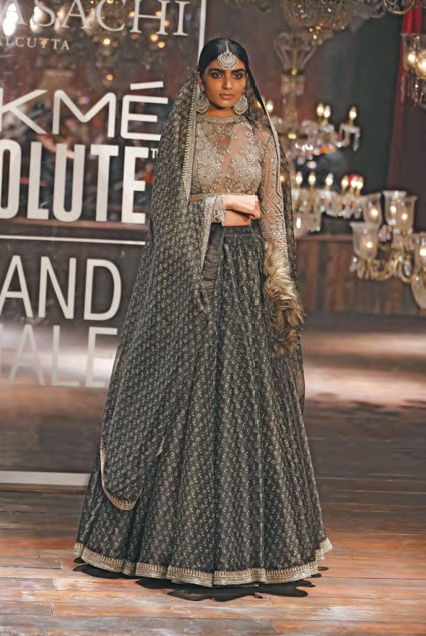 How would you say the Indian consumer mindset varies from that of the west?
In india, we may not have designer sarees and shoes. But we will have some gold and enough money saved for our children. We don't live in a mortgage-based ownership system or in a credit card-based economy. We live in a savings economy. I think that is where we are different. Indians have a different outlook of life and luxury.
How do you think the Indian design industry can attract the west?
The answer to this is to just be Indian. If you look at what happened in the 70s, and the rise of flower power, it happened because the period of 50s and 60s were a period of excess. That is why it was an organic need for people to break away from raging commercialisation and to become free spirited individuals. Now if you look at human beings all over the world, they are moving away from mechanised consumption.
They look for authenticity, they look for wellness, they look for transcendental experience that go beyond luxury. And when the world is going through such a spiritual moment, no other country can offer them that, and still blend luxury into it. This is not just about clothes, but the world has gone into a bit of an inward momentum, and they look upto countries with ancient civilisations that are over a thousand years old. That is why it is India's moment . And this is, ironically, not because of India, but because it is an organic moment for the world. Money is not the only mark anymore.
What would you describe as the crux of your inspiration?
Good coffee in the morning, I would say (laughs). It makes me feel good and I make good designs. What differentiates us from the consumers in the west is the fact that we may not have a great deal of many things, but what we have is a great deal of common sense. In India, the customer is looking at luxury, but at a price they can afford to spend and with a quality they can rely on. And I think that defines the country's taste. They know exactly how much they want to spend and when. So we really don''t have much of an inspiration to point at. We make what an Indian consumer wants, within a budget they can afford. That is really the spirit of the brand now.
How important is it to sustain brand value?
As the world gets diverse and the number of choices increases for customers, It is very important for any brand to consistently and firmly define what it stands for. When I do fashion shows now, there is this joke within the design team that our headline is going to be "same old same old". I think repetition creates iconism. And as more and more designers come into this system, you create a stand for yourself. A quote by Yves Saint Laurent is very relevant to this. He said "I think I am done with the gimmicks and the storytelling. What I am concentrating on now, is constantly refining my craft". As a brand, that is what we imbibe. Our pattern is not external anymore. Our pattern is internal. You have reached from point one to point eight. Now reaching from eight to 8.2 is almost impossible. That journey might almost be invisible to the outside world, but for you as a brand and for repeated consumers, it makes a difference; and that is what we work on.
What does the future hold for you and the brand?
For a lot of people, for the longest period of time, luxury was a big aspiration. But right now, when you have ticked all the boxes, where do you go next? You cannot go outward, so you go inward. It is reading your consumer's introspection – if a holiday with their kids is more important or a $1,000 bag. Right now the way the world is progressing, people are so married to their lives, family and work, there is very little scope for community activities. They have all the time to make money but not to enjoy it. People have started dropping out of the luxury box and reinventing their needs. And wellness is taking more priority. If you ask me what is luxury now, I would say an afternoon nap and two hours in the spa. We are simply going to try and work on balancing our brand's ideology with the change in our consumer's emotional requirements.