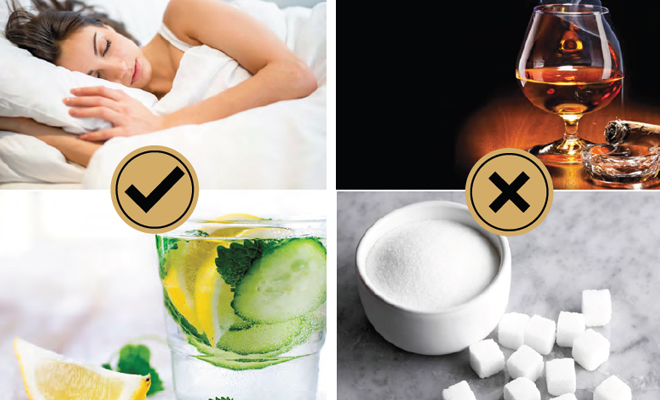 TONING UP FOR THE DAY
|
Things to do and to avoid while preparing for the biggest event in your life, your wedding day
Words by Taranjeet Kaur    Photographs from Various Sources
Choosing the best life partner, best wedding venue, best caterers, best decoration and of course the best wedding outfit and having a fairy tale princess wedding is every girl's dream. An unhealthy lifestyle and too much stress can turn a blushing bride-to-be into a bridezilla. A healthy and balanced diet is essential. Here are a few tips on what to do before the arrival of your big, dreamy wedding.
1. No crash diets: The internet is filled with them, but don't get carried away with instant or crash diet plans. If you wish to lose weight, get a diet plan authorised by a professional dietician who can chalk out a list food items that suits your body type, while also including an exercise regime.
2. Adequate water intake: Make sure to keep yourself well-hydrated with water. Adequate water intake helps remove toxins and helps the body with a balanced nutrient supply. It also boosts metabolism.
3. Taking your greens: Include leafy and green vegetables to your diet, like salads. Vegetables provide good vitamins, minerals and fibrous supplements to your health.
4. Eat fruits: Instead of fruit juices, include a healthy mix of fresh fruits to your diet. Avoid fruit juices completely as they are loaded with sugar and lack fibre, even if they are homemade.
5.Protein intake: Make sure to add ample proteins in your diet. The Metabolic Balance Programme advocates including a high biological value protein like milk, curd, eggs, chicken, meat, beans, dals, sprouts or nuts during meal. This not only provides satiety but also helps fulfill the protein requirement of your body.
6. Sleep: To look good and fresh, it is important to have adequate sleep between 6-8 hours everyday. Try to sleep and wake up at the same time. It helps the body rejuvenate and boost energy levels.
While you do what is best for your body, here are few things you must also keep away from:
Avoid sugar: Sweets are an absolute enemy to a bride! Stay away from it completely – no chocolates, no sweets, no pastries, no canned juices, no fresh juices, no colas – nothing.
Limit alcohol and smoking: Alcohol provides calories and gets metabolised as fats in our body. And enough cannot be said ever on the dangers of smoking – it is a one way ticket to ruining your health.
Exercise regularly: The most important thing a bride needs to keep in mind is to make time for exercise. At least 30 minutes of daily exercise is necessary.
Limit intake of caffeine: Amongst all the anxiety of shopping and arranging things, it is easy to fall into the habit of consuming endless cups of tea or coffee. Excess amounts of these can dehydrate your system and make your skin looking dull.
Be Positive: Stay happy and think positive – that will sort out all the above, and get you in shape, both soul and body, before the dawn of the most important day of your life.