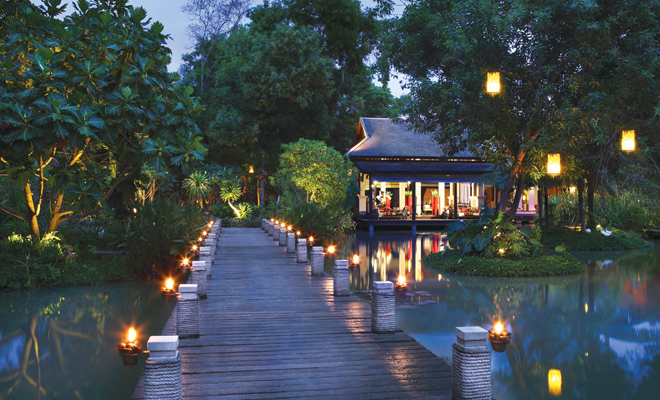 ROCK IT IN BANGKOK
|
A honeymoon-walk on the pristine beaches of Phuket is an assured euphoric experience
Words by Maya Lalchandani    Photographs from Anantara Mai Khao Phuket Villas
Imagine waking up to pristine turquoise waters and pearly white shores, followed by an exciting day spent mounted atop an elephant and checking out uncharted territory. Thailand and its myriad islands offer such a vast sense of adventure, mixing the tropical ambience in the lap of luxury. Anantara Mai Khao Phuket Villas is situated in Mai Khao, the longest beach in Phuket, located on the northwest coast, neighbouring the undisturbed jungle of Sirinath National Park. IT is located just 20 minutes away from the International airport. This exclusive Thai island getaway is also close to Patong Beach lined with restaurants and nightlife and just 30 minutes away from Phuket town. It is a luxurious hideaway for those seeking a relaxing experience.
The resort offers a range of accommodation types to choose from – the 91 private Phuket Pool Villas, scattered across the dense foliage and with the Mai Khao stretch. The resort offers inviting options such as Pool, Lagoon or Sala Pool Villas to the twothree bedroom Pool Villas. A more extravagant treat will be available at the residences and the Royal Villa. Reputed landscape designer Bill Bensley has brought in an exquisite environment in and around each villa – 186 sqm of luxurious space. Terrazzo tubs encourage skinny-dipping in one's own privacy as well as private pools and outdoor hardboard decks to soak up some sun.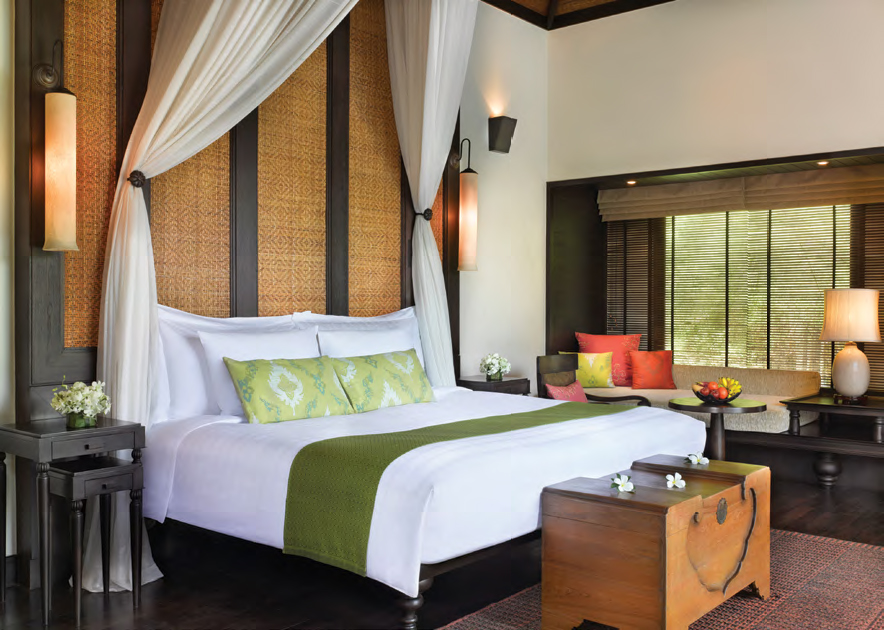 Call it your space
The rooms are well-equipped with amenities, including LED TVs and DVDs and a docking station with Wi-Fi and Bose sound systems. Espresso machines, a personal wine cellar, and a mini bar offer some added incentives to your experience at the resort. The Pool Villas are decorated in traditional southern Thai style, with a contemporary touch. A list of International newspapers, a daily turndown service, Anantara Bath senses, and a personal host service are all thrown in for good measure.
An absolute favourite amongst newlyweds and couples in general are the King bedroom Private Sala Pool Villas. Short wooden staircases extending from the living space into a pond filled with lotuses makes a romantic setting for honeymooners. Couples can revel in the comfort of this private quarters and experience a cosy soirée.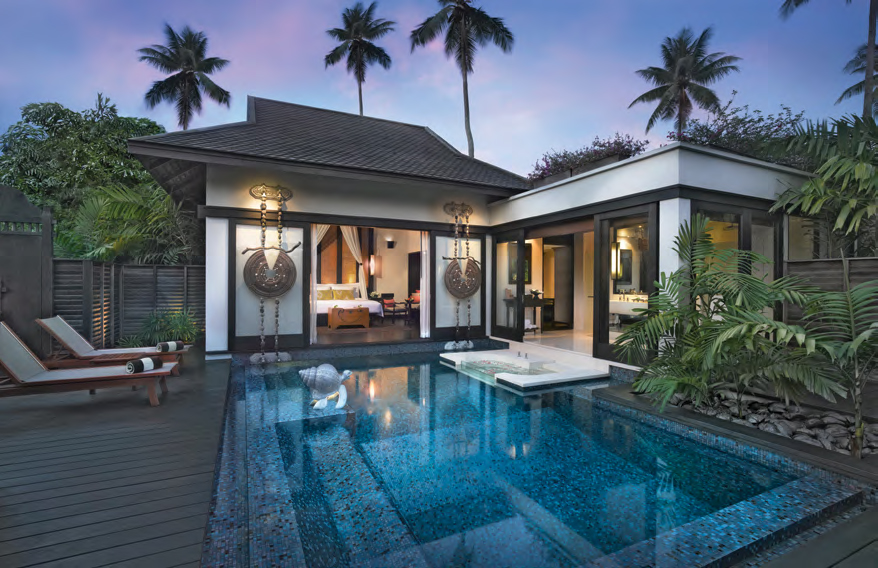 Eat heartily!
Dining at the resort satiates the stomach and the soul. Beachfront restaurant Sea Salt and Fire is a seafood lover's haven. The fiery seaside barbeque equipped by a Salt Sommelier to give it a finishing touch is an experience like no other. As exotic as the destination, as experimental the cuisine at this lovely dining venue. The specialty is marinated meat/meal cooked at 200 degrees on a brick of Pure pink Himalayan Salt. It is high in mineral content and plated perfectly and the salt creates the added depth to the meal. Here you can also experience the world's rarest, most unique and expensive coffee. Dishes to try out are the poached/ chilled Seafood bucket, mixed seafood salt brick, Angus tenderloin and foi gras. La Sala restaurant is the resort's all-day dining café, while the Infinity Pool Bar offers a relaxing ambience with magic and mixologists. The Tree House Café serves tapas, gourmet coffees and sorbet teas as well as pink Champagne, mojitos and heady wines. But not to be swayed with just that, the resort's Tasting Room actually houses a wine cellar, encouraging the ultimate interactive dining experience. Anantara in its inimitable style also suggests 'dining by design', where the guest can curate an experience of his own. Thai cuisine cooking classes will allow you to take back home a taste of Phuket.
A destination such as this is only complete with a soul-awakening spa experience, which is tailor-made at the Anantara Mai Khao Phuket Villas. Massages, elixirs, and wraps in six luxurious treatment rooms makes the cherry on top for a destination wedding at this beautiful venue. The Anantara Signature 90-minute massage has designed movements that help in the circulation of blood and relax complex muscles, while reflexology clears energy blockages. The 'Journey of Siam', extended for 150 minute, consists of an exotic scrub followed by a remedial compress to help release any muscle tension. The Couples' Exotic Romance Retreat provides a ginger polish, with a soak in a milky bath and ending in a glowing facial. Pampering unlimited.
Apart from the pampering sessions of fine dining and relaxing spa, Anantara Phuket also offers adventure seekers the chance to explore the nearby forest lands with a series of activities such as hiking, trekking and biking into the lush green jungles dotted with robust waterfalls (Bang Pae and Ton Sai). Wild life extends from a delicate deer to native bears, wild boars and gibbons. From land to sea, guests can also enjoy plenty of marine activities like canoeing, snorkeling, and dive sites in the coral reefs.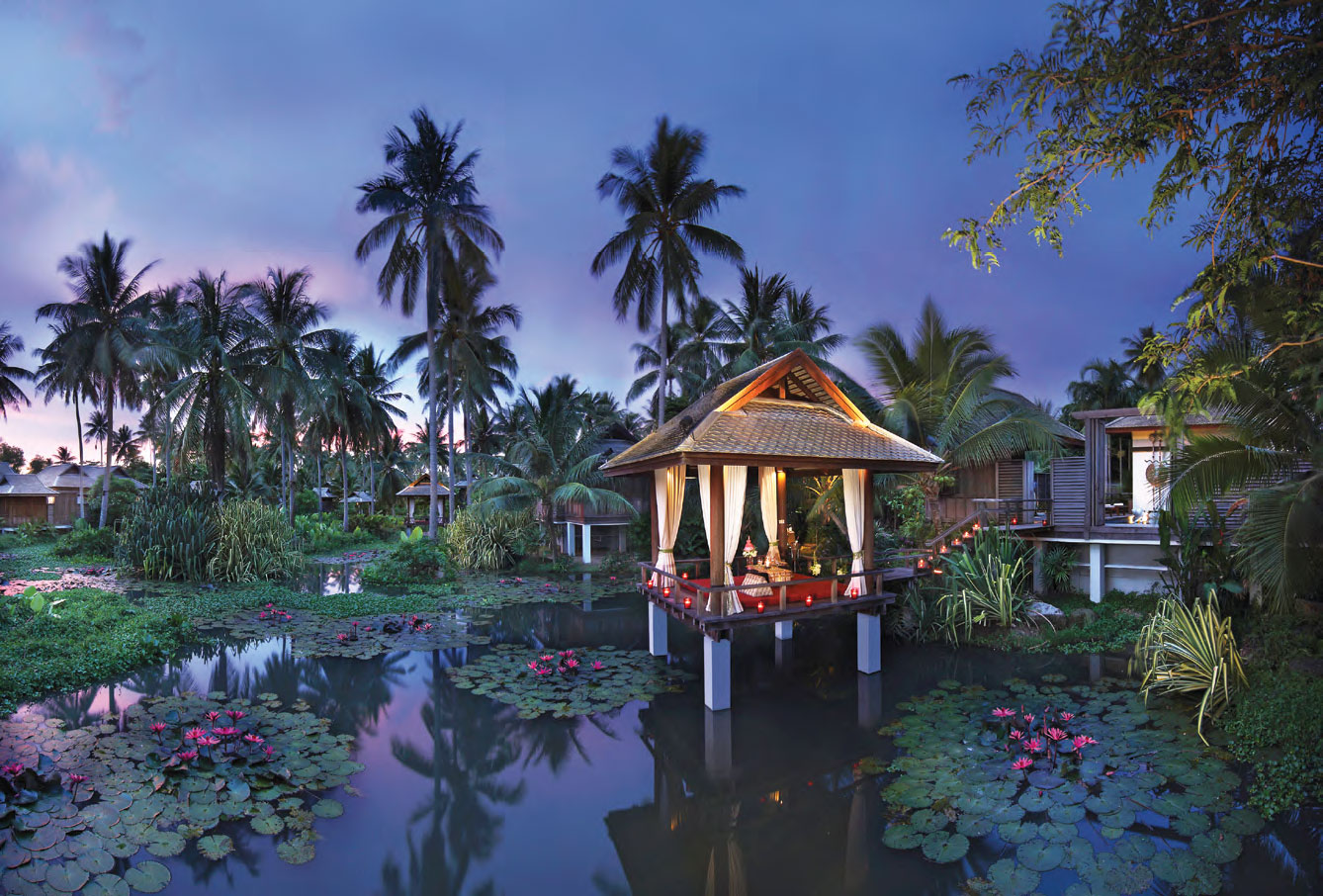 Reason to rejoice
Anantara puts itself all out for an exclusive, private, small destination wedding venue as well. The resort accommodates any request from couples looking for any customary wedding setting. Wedding by Design tailor-makes experiences for the newly-weds, with extravagant wedding rituals and also whims, like making an entry atop an elephant to pick up the bride, or having the bride arrive in a long tail boat! Unlimited entertainment is served at this resort for a wedding party – from a grand entrance supported by an orchestra, to a jazz ensemble, to fireworks lighting up the night sky, to music by solo musicians or bands, to going sailing with friends and family, to prenuptial spa packages, to making promises barefoot in the middle of the serene turquoise sea to releasing a bird into the sky – the options are aplenty. Plenty of reasons to say – "I Do!"
Flight Service
Daily flight services are available between Bangkok and Phuket International Airport by Thai Airways and Air Asia.