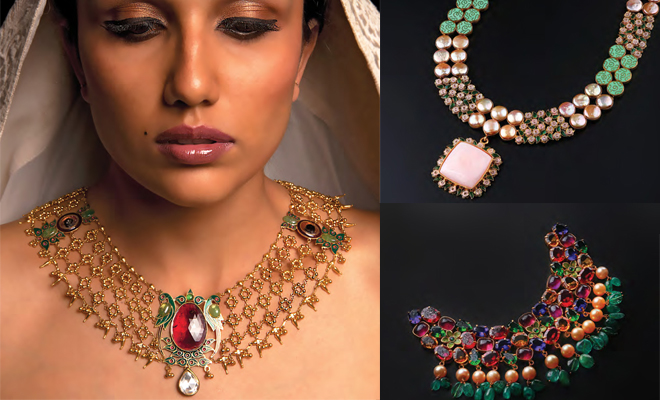 TIMELESS IN CHARM
|
Artist behind the allure of M.O.D, Asha Sebastian, talks about what makes their gold shine and the designer jewellery that will light up your life.
Words by Likhitha P Nair    Photgraphs from M.O.D
Jewellery is a concept that found its way into modern civilisation about 3000-5000 years back. From what we know, this evolution of fashion is what gave value to every precious metal and gem that we see today. Walking into M.O.D signature jewellery store in Panampilly Nagar, Kochi, you notice the versatility of this luxury. Colours and designs that harmonise into pure art. The artist behind this ingenuity is Asha Sebastian Mattathil. Presently headed by her son Akshay Sebastian Mattathil, M.O.D has been in the jewellery business for the past five generations. Back in 1983, for her engagement, Asha selected body jewellery like armlet and a waist belt as compared to a simple necklace.
She couldn't find anything that would interest her in the locality and even after travelling to a city like Bangalore, she couldn't find jewellery of her taste. And finally, she ended up at a Kaarigar in Cochin who could customise jewellery. Asha gave him a modern design for an armlet jewel (vangi) which turned out to be really unique. This piqued her interest and boosted her confidence to explore the concepts and techniques. M.O.D's designs are a mix of tradition, elegance and changing fashion. Asha says that her achievement has been her ability to make her customers feel beautiful, inside out. Professionally trained from the Geological Institute of America, Asha has profound knowledge of every stone, metal and process that goes into making jewellery more attractive and feasible. FWD got into a conversation with Asha about her unique passion for all that glitters.
How important is choosing the right jewellery?
I would say jewellery is a very personal thing. It could reflect your personality and hence, each piece of jewellery would suit only those who can carry it. Wearing the right accessory can uplift the confidence and mood of a bride. Earlier, parents used to make choice of clothes and jewellery for women, but now brides have the option to decide their own style. Since all of us have distinct features, from neck to posture, wearing what looks good on someone else might not bring out the best in us. For example, chokers are said to suit tall, thin girls and being a designer, I have noticed that this isn't necessarily true in all cases. So I would say choosing the right jewellery for you is very vital.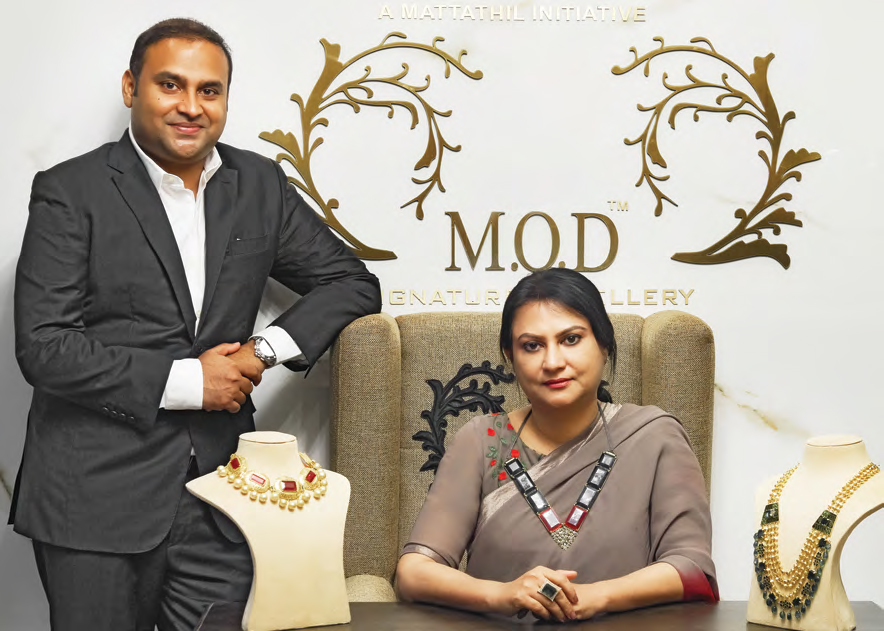 When a bride comes to you for designs, what are the factors you keep in mind?
There are few. Most important one would be budget. You choose the design and stones based on what they are ready to afford. Secondly, I would say her apparel. Clothes and other accessories she is wearing. No matter how good the design is, if it doesn't sync with your attire, it wouldn't look good. Thirdly, the occasion matters. You cannot wear heavy jewellery to a seemingly casual function. There is also her social circle you need to be mindful of. The kind of people the bride would interact with. And most of all, the bride's comfort. I would never get a bride to wear a design she is not happy with, even if I feel it looks good on her.
What are the different kind of stones you work with? How feasible are they for an average customer?
Certain stones are associated with lifestyle and status. Ordinary clients do not need them, or aren't ready to afford them. There are uncut and cut stones and I use both for my jewellery. My designs also use stones like amber, amethyst, quartz, turquoise, alexandrite, ametrine, aquamarine, chalcedony,tourmalines, serpentin, and cornelians apart from diamond, ruby and emerald. I use them according to the client's occasion or budget requirements.
Have you ever had to limit your creativity while designing?
Well, not really. M.O.D's designs are really versatile. I would call them evergreen trends. Any culture or community would find them attractive.
What would you say is special about M.O.D's jewellery?
Each of our designs are handcrafted. The designs are authentic, real and gets my personal attention during their making. The designs are timeless, blend of different trends that never go out of style. I design very versatile jewellery, mixing and matching stroke of many cultures. I would say this emotional touch is something you will never find in mass produced pieces. Apart from customising designs, we now also have a collection of ready made, unique pieces that customers can walk-in and buy.
You have been doing brilliant work with gold enamel. What was the inspiration behind this?
I think I was always attracted to the colours. I have been using enamel on gold for 20 years now. And I believe it is a result of my ardent love for true art. There are 200 possible colours of enamel. Indian temple jewellery mainly uses red blue and green. French enamel has lighter colours. I love experimenting with them.
Your daughter is into textile designing. Do the two of you work together?
Yes. My daughter Tiya is a textile designer. She is trained in jewellery designing too. With my experience and her talent, we have become a masterteam of wedding designer wear.