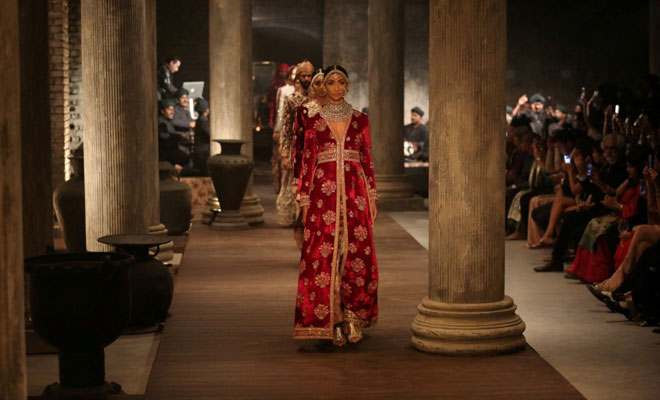 Sabyasachi presents "Firdaus" Fall – Winter 2016 showcasing bespoke Christian Louboutin shoes and handbags
|
A world detached from reality where time stands still, Sabyasachi store is located in the historical precinct of Delhi at Mehrauli. It is flanked on two sides of a heritage monument. Divided by a grand staircase are the two wings of Sabyasachi store.
On Saturday, November 12th evening hosted in the capital, as guests walked up the steps towards the monument, gently a different world continued to unfold.  Sabyasachi created  an immersive experience to present "Firdaus" Fall / Winter 2016 and the showcase was complemented by a striking collection of women's and men's shoes and bags, created in collaboration with French designer Christian Louboutin. The designer's second collaboration (the first was for Sabyasachi's "Bater" show last July) was another masterful amalgamation of Parisian and Indian style craftsmanship.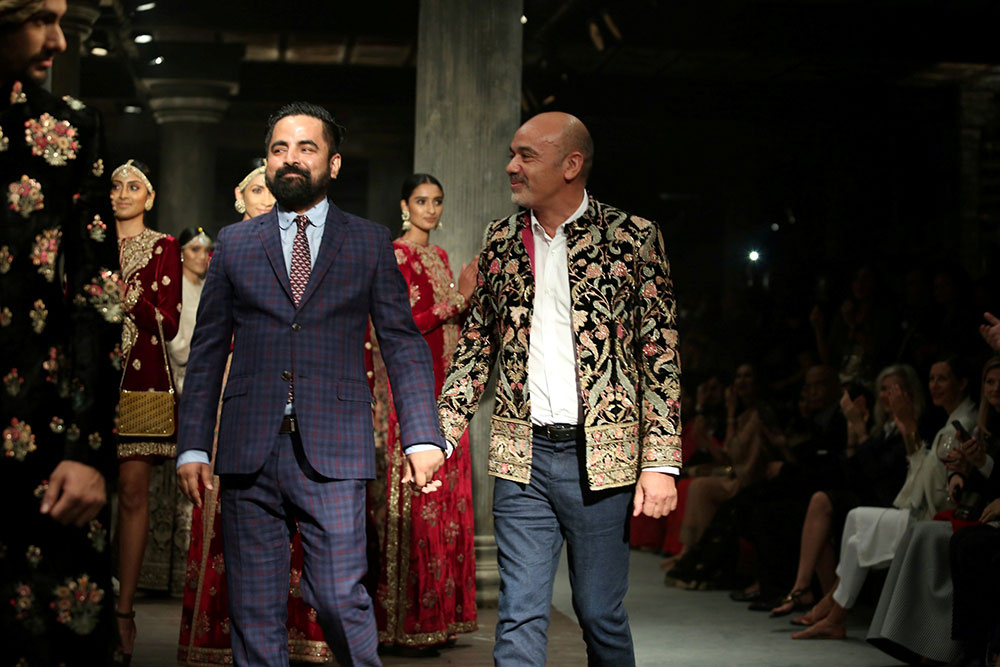 This collaboration that is the result of great chemistry this year was made even more special as the two maestros brought to life for the first time a capsule collection of bags along with the shoes.  The beautiful amalgamation- between Christian Louboutin and Sabyasachi's design team between Paris and India – continued to tell an engaging narrative this season stamped with their signature styles and infused with captivating high glamour.
On the specially designed set conceived and designed by Sabyasachi, models walked down the ramp with cosmopolitan sophistication. As they emerged around the pillars, to the backdrop of live musical performance by Rajasthan artists of folk and sufi songs – the acclaimed Manganiars of Barmer led by Samandar Khan  – the world of Sabyasachi came to life. The electrifying rendition of "Ali Maula Ali Dum Mast Kalandar" by these 24 folk artists was complemented with pulsating musical rhythm of Gaurav Raina of Midival Punditz. The show was choreographed by Anu Ahuja.
The collection also showcased jewelery by Kishandas & Co for Sabyasachi. To raise a toast to the second collaboration and celebrate the moment with Sabyasachi and Christian Louboutin, the well heeled who attended the evening included: Fern Mallis (official creator of New York Fashion Week), Monica Bhargava -EVP product development of Pottery Barn, Amitabh and Ranjeeta Kant, Sunil and Bharti Sethi, Anjali Gaekwar, Malvika and Debashish Poddar, Lekha Poddar, Pratiksha and Prasant of Kishandas family, Priya and Shirin Paul, Shobhana Bhartia, Aparna Reddy, Sam & Karishma Bedi, AD Singh, Maithli Ahluwalia, Shalini Passi, Atul & Nandini Singh, Chiki Sarkar, Zeenia Singh, Gunjan Gupta, Anupam Poddar, Aman Nath, Prerna Subba, Fariha Ansari, Smita and Rajiv Shroff, Samegh and Tanvir Batyra, Suvrat Batra, Genevieve, Kalyani Saha, Ruchika Sachdev, Aashni Shah, Brett Kladney, Seema Chandra,  Aasthi Bhartia, Ameeta Seth, Marut & Anusuiya Sikka and Tarun & Ritu Khiwal amongst others.
Christian Louboutin x Sabyasachi
Featuring iconic styles in hand bags collection such as the "Paloma Clutch" in suede pony artfully embroidered in a floral bird design and heightened with embellishment and hardware complemented the couture pieces of the evening.  Other iconic styles included "Sweety Charity". The shoe maker's vision perfectly complemented the mindspace of Sabyasachi as they bought to life an array of styles to complement a woman's wardrobe. Combination of Sweet Charity bows, embroidery or spikes adorned the 140mm heel, creating a powerful towering silhouette on the runway. Classic styles such as the 'Privé'appeared in opulent black velvet with burgundy accents, while the gold and black version featured hallmark Sabyasachi embroidery, clearly stamping the union of the two designers with celestial charm. Playing with different heel heights, the embellished 'Girlsbestfriend' with hand-placed baguette crystals was specially created in three variations – flats, 100mm heel and platforms, with the platforms playfully adorned in embroidery, mini spikes and fringed silver chains.
The collection of shoes and bags was crafted using unique materials including cork, leather, and raffia, with adornments ranging from intricate embroidery to hardware in the form of beads and Louboutin's signature spikes in varying sizes. The men's shoes were adorned in Sabyasachi atelier's signature embroidery on a variety of men's slip-on loafers.  From rich velvets with intricate embroidery motifs, to mustard with accents of spikes, the men's collection offered styles for many occasions.  'Dynodent' stood tall with Jurassic spikes, while 'Tassilo' moved in beat with the live band.
FIRDAUS Fall / Winter 2016 by Sabyasachi
For the collection, Sabyasachi used the finest vintage needle crafts, the sophistication of tilla and super refined zardozi. Add to that sumptuous velvets, organic dyes and classic Indian silhouettes painstakingly hand-stitched. Sample this: 42 master karigars, 1,963 dexterous hours of intricate workmanship and a modern heirloom is brought to life in the form of a floor-sweeping coat.
The signature Firdaus Coat has been crafted using techniques of appliqué Parsi needle work, Zardozi and Tilla work, this coat has been entirely hand embroidered by 69 kaarigaars using 2,800 man hours of labour. 113 colours, vegetable dyed silk floss thread, dipped dyed brocades and silk velvet the finest silver dori are some of the ingredients of this labour of love. Inspired by a hand rendering of an antique textile of the Qajar dynasty of Persia this coat is a modern heirloom that can be worn with exotic brocade Lehengas or simple  western separates.
The Colonial Coat: A visit to the museum of the colonies in Paris inspired Sabyasachi to create The Colonial Coat. Oriential- occidental in style, this exotic coat travels many regions from Ghana to India to Burma. Rare birds, exotic plumage, tropical fauna all embroidered in gilded thread work, sumptuous brocade and velvet appliqués and renaissance couching techniques. Clocking over 1,600 man hours, involving 47 artisans and 3 fine artists from the Calcutta School of Art, this coat is a testimonial to the brands highly celebrated needle craft repertoire.