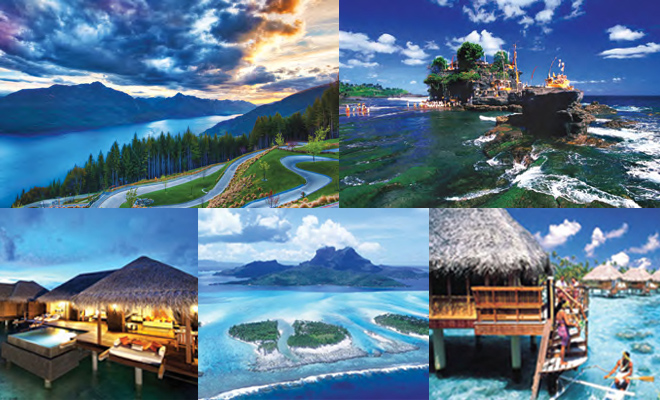 THE ISLE OF LOVE
|
Our pick of the top island destinations from around the world for your honeymoon trip.
Text: Varun Kannan    Photos: Various Sources
There are folks who would tell you that when in love, everything else fades into oblivion. That you could be broke as hell or stuck in a cell, but in love, it would not matter as love is all you would need. We are not disagreeing, only mildly suggesting that despite being deeply in love, you probably wouldn't really mind something special. Like spending the night making love to your darling in the freedom of a pristine white-sand beach rather than the confines of your cozy bedroom or watching the sun set behind a volcanic mountain holding hands with him, would you mind that? If no, here's a list of the best island destination in the world that you could fly into and celebrate love. If you disagree, we hope the list makes you change your opinion.
New Zealand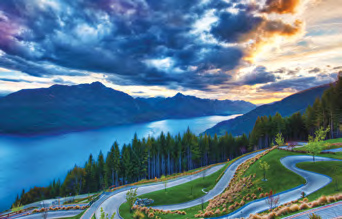 New Zealand stacked in that southern corner of the world is considered by many as among the most beautiful places there is. A variety of unforgettable experiences from the magical fjords of Milford Sound to the award-winning wines in stunning vineyards packed into these spectacular group of islands. Spend time mingling the local Maoris, exploring the olive groves, native forest, beaches, art studios and funky cafés. New Zealand could just be the perfect choice for your honeymoon.
Fiji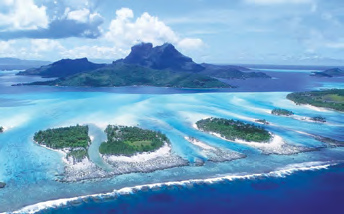 How about flying off to the soft coral capital of the world, Fiji? With some spectacular underwater scenery and some of the finest, and most accessible dives in the pacific, Fiji is sure to amaze you with countless reefs, drop-offs, walls and channels. And once done with the exhilaration, there are ample opportunities to stretch the legs, visit an orchid garden, raft down a river, soak in a hot spring or visit a village.
Tahiti
Tahiti is the largest island in French Polynesia. Crowned by a circle of majestic peaks and adorned with deep valleys, clear streams, and high waterfalls, all bathed in green iridescence of Mother Nature's light.Tahiti seems to be specifically created for couples. its beauty is sure to leave you enchanted.. With over 118 beautiful islands and famous destinations such as Moorea and Bora Bora, Tahiti has all the ingredients to fulfill the need for an exquisite and unique honeymoon.
Bali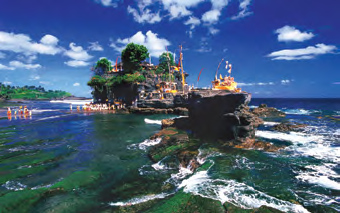 Bali has its beaches, surfing, diving, and also resorts, great and small. However there is something about the island that sets it apart from the regular honeymoon destinations. Consider this for instance, on a certain day in the year; the whole island shuts down as the Balinese stay indoors in silent introspection. So Bali is the perfect destination, if you are that someone who would want to make love to the nature, to the stars, to the sea as much as to your loved one,if you know what we mean.
Maldives
Home to some of the best beaches in the world, Maldives is the dreamy island that you would want to escape into with your loved one. A group of over thousand coral islands in the Indian ocean, Maldives will bowl you out with the its sheer brilliance. This tiny group of island's will make is bound to leave you feeling more tender. As you look at her beneath the seas during dives, you are sure to thank yourself for having chosen her.