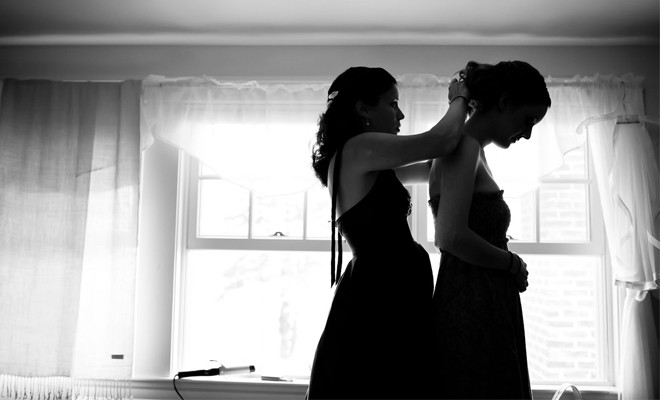 Bridal Scare No More
|
Uninvited guests are not the only surprise that tends to happen on a wedding and a little premonition can go a long way in having a hassle free wedding
A bride walks down the aisle, an image of elegant beauty that most of us hope to portray at least once in our lives. She glides along in her long gown and high heels, but somewhere along the way she trips on her hem and stains her dress, or snags the trail somewhere. Although we'd all be a little hurt we would choose to move on and we'd all take care to be extremely cautious and not let such things happen. But what if you are equipped to deal with any such mishaps it could let you relax a little more and be the kind of bride who has fun at her own wedding.
Blotting paper
To keep any unwanted shine at bay and only let your bridal glow be the focal point on
your face
Try: The Body Shop Tea Tree Blotting Tissue
Eyelash Glue
Unless you are extremely lucky to have gotten natural lush lashes, you will be wearing false lashes and they are
Try: DUO Clear Eyelash Adhesive
Chapstick
Dry cracked lips are not made for photographs and even if you are wearing the best shade, a good chap stick can give your lips the moisture it needs
Try: Burt's Bee Honey Lipbalm
 Q Tips
Eyeliner mistakes are a real thing and little bit of eye makeup remover and a Q tip can go a long way in fixing any tell tale smudges after doing your whole makeup
 Travel Size Hair Spray
It doesn't matter how much hairspray your hairstylist uses on your hair, half way through the ceremony you are bound to get more than few flyaways. So keep a travel size hairspray handy to keep your hair looking its best.
Try: L'Oreal Elnett Silk Travel Size Hairspray
Hair Brush/Comb
Even if you don't want to brush or comb your hair during the event, one could earn brownie points for being a thoughtful bride by offering a comb to a cousin having a bad hair day.
Bobby Pin
Hair disasters are the worst and a couple of bobby pins in the right places can make a big difference as a last minute fix to any flimsy hair do.
Band Aid
Ask any bride what was the worst part of her wedding and they might say it was the shoes. To prevent blisters or to alleviate any friction, apply a band aid to the point of contact and you can continue having a great time with no blithering blisters to worry about.
 A pair of Foldable Flats
If you plan on dancing the night away, wearing heels might not be the best idea. Keep a pair of foldable flats in your emergency kit so that you can wear them at the end of the night and have a good time.
Super Glue
Super Glues are a god send item, there are a hundred and one things that might break, unfasten or split during a wedding function and super glue can fix atleast 70% of it. From broken heels to broken centerpieces to broken nails!
Safety Pin
Safety Pins are a necessity no matter what the occasion and keep at least two dozens of safety pin on hand for any sort of wardrobe malfunctions.
Sewing Kit
If safety pins won't just cut it for an unfortunate wardrobe malfunction- a rip there, a snag here, go ahead and use the handy sewing kit to fix up any such mishaps.
Fashion Tape
If you are wearing something low cut, double sided fashion tapes are the best thing to keep your outfit from moving or slipping and make sure to back yourself up with more fashion tape.
Earring Backing
These tiny things can be the cause of a lot of trouble if you lose one and cannot replace it. So make sure to keep atleast a dozen earring backings on hand in case you or anyone else loses their earring backing.
Breath Mints
When you are spending hours and hours making small talk and smiling, it is necessary to be minty fresh. So be sure to keep a whole pack of mints on hand.
Tampons/Sanitary Napkins
Unless you are taking medication to prepone or postpone your periods ( which is probably the best idea), hectic schedules and stress caused by the wedding event can induce periods in some people. So go ahead and keep tampons or sanitary napkins on hand. It's always better to be safe than sorry.
Medicines- Pain Killers (One each for headaches/stomach cramps Allergy Medicine, Clear Eye Drops and Antacids)
Spending hours facing flashing lights from cameras, talking to all your guests, being crowded and sweaty all can cause a multitude of difficulties- ranging from bouts of headache, stomach cramps, on set of allergy, and even gastric troubles from all the heavy food. A decent stash of medicines can help you get through most of these ailments.
Images : Various sources