Wedding Affairs – Something Borrowed
|
We carry the reminiscences of a wedding affair we have seen, adored, envied and praised, in our hearts and thoughts. Later, we tend to take small details from them with a touch of creativity in our own nuptials! Pull off some of these tried and loved ideas with a bit of you and get those eyes to say wow!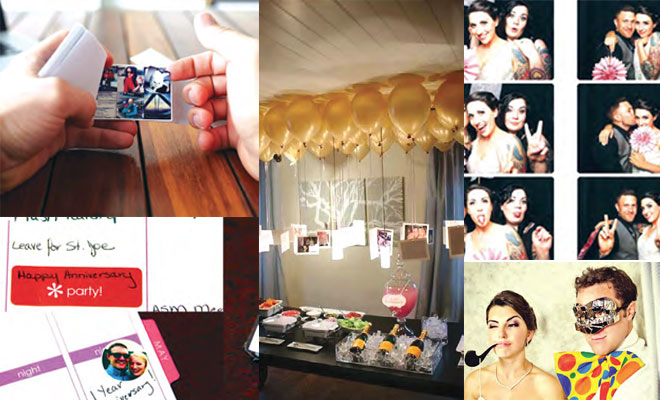 INSTAGRAM CALENDER STICKERS
You always want all your near and dear ones, who are invited to be present, when the most beautiful moments of your life dawn. A little worried that they may forget your wedding date? Well, let's make sure people can actually save the date! Save-the-Date invitations could include stickers for a calendar. Create your own adorable stickers using the app Instagram, send it out with your save the dates! It's the way to get an idea glued to your mind. It's also something that can be stuck any where, so it can bring back a few memories. Stickers are fun gifts to share with loved ones.
PHOTOS IN THE AIR
Balloons are synonymous with fun, festivities, merriment, joy and everything that kills boredom. Get creative and grab a bunch of helium balloons and hang your favorite photos from these balloons. The photos can be of you and your betrothed, your childhood memories, candid pictures of you as a couple, fun times with your friends or some of the greatest milestones in your life. It's a great alternative to a wishing tree. You could even let guests write little notes behind the photographs to wish you guys. It's a visual treat to your venue. Also, it's a fun way of just letting your
thoughts hang in there.
A FUN PHOTOBOOTH
Who doesn't love photographs? Forget about selfies for a moment and just enjoy being surprised. after you see the photographs develop. While you're off taking your own photos as a married couple, provide your guests with a fun activity that will have them laughing and posing all night. A photo booth is the entertainment factor. Make your custom made booths, backdrops and props. It leaves a photographic memory behind during your wedding. What counts more than  the experience is the fact that it canbe kept as a souvenir. So the next time you see it on your refrigerator, you'll remember what a fun wedding it was.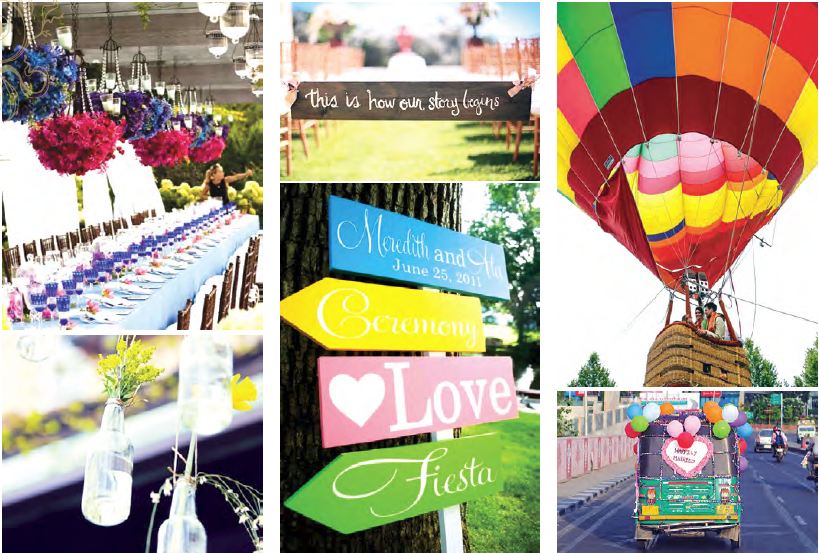 SUSPENDED FLOWERS
They are in baskets, suspended from the ceiling, or draped beautifully on a mandap. Flowers bring colour, life and freshness to your wedding. Forget wrapping your mandap in flowers, just hang little buckets of flowers from them. Cane baskets or wooden crates suspended from the ceiling with flowers are currently the trends in bloom! If you want to turn over a new leaf, try birdcages intertwined with flowers, or dangling glass bottles over the dining tables. Better yet, just hang bouquets upside down. Go for the flowers in season, they are the best and inexpensive. Flowers make your venue go from gloom to bloom.
INNOVATIVE WEDDING SIGNAGE
Talk about signage and most Indian weddings are limited to signs on the road giving directions to the venue.There is so much more you can do with signage for your wedding décor. Wedding signs can be placed near the feras, with messages such as "Happily ever after starts here", "Today I marry my best friend" or just your favourite quote painted on a wooden plank. Try some uber cute wedding signs and help your guest drive to the happy venue absolutely delighted. Even when the bride makes an entrance, ask the flower girls to hold a banner that reads, "Here comes the bride."
CHOOSE YOUR RIDE TO NEW HOME
The time when the merry go round of the wedding seems to go through a slow turn, you get emotional. The time comes when you are leaving your home and your family, taking that first step into your new life. Instead of sinking into the sad aura, you should embrace it as a start to a blissful journey. Be choosy about the vehicle. It can be a cute little vintage car, a motorbike, rickshaw ride or even a hot air balloon. You can make a simple banner cut out that reads, "Just married" and even make it dramatic with helium balloons. After all, they say happily ever after!
Photos: Various Sources