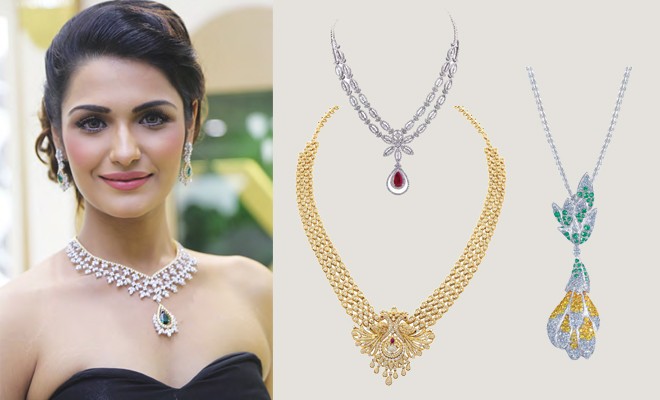 Thinking out of the Jewelry Box
|
Seema Mehta, Creative Director of a leading jewelry brand, shares with us what's trending in the world of jewels.
There's been a famous joke that you purchase your heels and jewerly before you buy your final outfit. Jewerly, it makes a statement and its so versatile. In a conversation with Seema Mehta as she tells us what's trending.
What's a top trend you love for jewelry right now?
Diamonds have dominated the industry for many decades now. The new trend reveals a splash of colour in the category. The sparkling ice has little by little become brightened by colours of all kinds, giving a new face to a girl's best friend.
A wedding ring is stunning with a solitaire, what type of stone, should the center piece be?
Solitaires are every girl's dreams and has managed to retain its position this 2015. When it comes to solitaires, this year has nothing drastic to offer; no revolutionary change or innovation in this category. Solitaires are still set with micro pave stones around the hero piece.
Diamonds are a girl's best friend, how about gemstones?
Gone are the days when jewellers and customers relied heavily on the conventional rubies and emeralds. 2015 has brought along with it the ability to experiment with unconventional stones. The jewellery industry is witnessing increased usage in corals and turquoise stones. Interesting combinations of stones are resulting in innovation, one-of-a-kind designs that are preferred by modern
women.
Old is Gold, now antique gold has turned quite a few heads, anything new?
How many of us are aware that about 66 pieces of jewellery complete a south Indian bride? Bridal wear is all set to accentuate different parts of the bride's face and frame. India is known to  produce jewellery in the sunny metal. But this year, there's lots of evidence that even though yellow gold will remain popular, rose gold is making a fashionable entry into new age jewellery. Rose gold is being increasingly utilized in creating jewellery of all formats and is the new face of "Jewellery Elegance".
If you had to revisit you jewelry box, what would you bring back?
Remember the good old enamel jewelry? It's back and here to stay this season! More and more jewellers are adapting to enamel jewellery and attempting new creations by fusing colours and gem stones.
Text: Atheena Wilson      Photos: Various Sources