Runway Bride Fashion
|
We're inspired by the looks being pulled off on the runway on the Lakme Fashion Week Winter/Festive 2015 and now you can pull it off for your wedding too!
The Nude and Minimal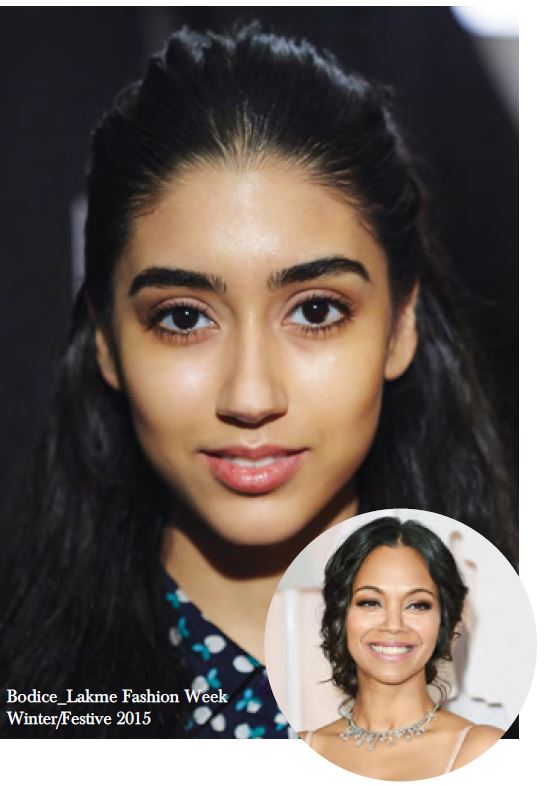 The idea behind this makeup look was to enhance the beauty of a woman and not mask them. The makeup for this show was very minimal with very light, sheer bases. A hint of cream blush was
added onto the apples of the cheeks to create a really pretty, souffle blush effect. Their eyebrows were well defined and groomed. Their lips were kept nude and skin were sculpted, contoured and highlighted in order to bring out their natural beauty.
Tips
When you are opting a nude look, it's important to understand what color will suit you. If you have pale skin, it's smart to opt for peachy colors and light pinks. If your complexion is olive, select a cream that has a pale beige foundation.
For the lips make sure you use a slightly colored lip balm. Also, keep you lips exfoliated, so they can look its absolute best.
The Contoured Look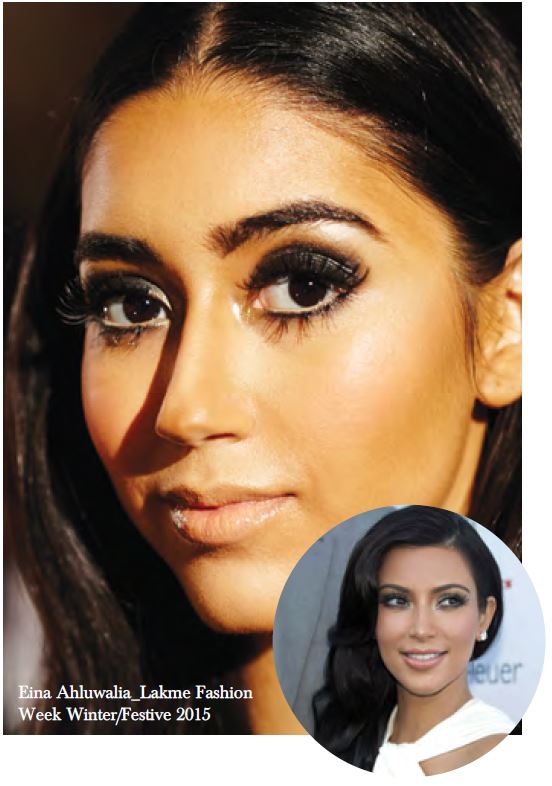 The make-up and hair for this show was designed in a way that each model looked like Kim Kardashian. Their cheeks were highly contoured and highlighted. They sported two layers of fake eyelashes on top and individual eyelashes below with cappuccino coloured lip gloss on their lips and extended red nails.
Tips
You can pull off this look by learning to use the concealer. Try to combat dark circles or any part of the face that have shadows. The best places to put concealer to contour your face is underneath the eyes, between the eyebrows and all over the entire eyelids and down around the nose and underneath the nose towards your mouth. Be sure you spread it out really well and it is best to apply it with your fingers and not the tube itself, so you can pat it on with your finger, instead of rubbing it on with the wand
Like Kim Kardashian's look, what's the thing you must take care of when you are getting cheeks highly contoured?
Lighting is key! Good contouring is invisible sculpting not orange and brown stripes down the face! Don't go overboard and learn to blend!
When it comes to sporting layers of eyelashes, what are few things that must be takencare of so that it doesn't look too dramatic?
Stop at two layers and take a breather. Comb through to ensure no clumps are there (unless clumpy chic is your thing!). If you want full drama add another
layer, two well-applied layers should give the right balance of bold and sophisticated.
When trying to pull off a nude look, what are some ways you can still make your make up stand out?
A dramatic eye, try a graphic hard line or a full-on smoke will complement your nude lips.
The thick eyebrows are in, any tips to get a pair of really thick eyebrows?
Grow them! As much as you can. Failing that, with a soft brown/dark brown pencil you can feather in the intensity. Set with a brow mascara or old mascara.
Text: Fat Mu Academy        Photos: Nidhin M Patel