Hair Spun with Buns
|
When it comes to pulling off a hairstyle, the bun is still a definite classic.
Bohemian Twist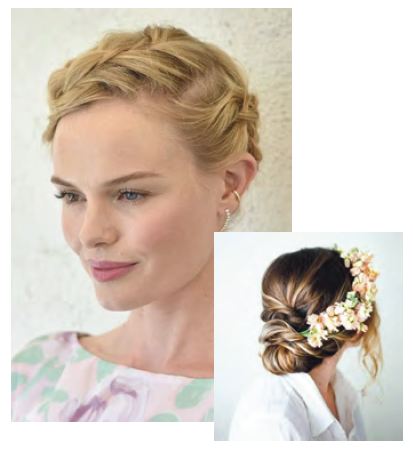 The twists and curls make it look complicated. Though the hairstyle is very intricate, it's not too hard to pull off and it looks effortlessly beautiful for a wedding hairstyle.
Take 2-inch sections and curl all of your hair with a 1-inch curling wand if you want to create a thicker texture. Part you hair in the middle and divide each side into three sections.
The top layer of your hair must be lifted just above the ear level and then twisted. Pull it across the back of your head and then secure it with bobby pins. Do this on the other side then tuck in the other ends.
Repeat this procedure for all the six sections and make sure they are crisply twisted, crisscrossed, and pinned in place.
For the final touch, spritz with firm-hold spray such as L'Oréal Paris Elnett Satin Strong Hold.
The Sleek Tuck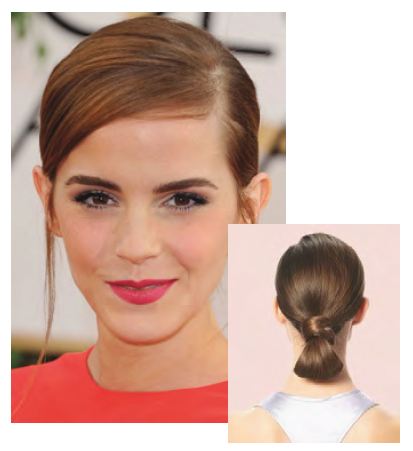 It's smooth and sophisticated, it's an easy- to master hairstyle for a warmweather wedding.
Apply a drop of hair oil before you blow-dry to give your hair strand the extra shine. Wait for a while till you hair dries and then create a deep side part. Comb you hair straight.
Place you hair in a low ponytail and do not use a very tight rubber band, go for good elastic bands. When you tie your ponytail do not pull it all the way through the last loop of your band, leave a bit of it out.
Smoothen you hair with some oil and then wrap it around with the elastic. Secure you hair underneath with a few bobby pins. To get a more kempt look, tuck in any of the stray strands.
Once you are done with the bun. Set the whole style with hair spray, so t will stay in place.
The best type of face shape for pulling off a bun?
A bun looks good on an oval, heart and oblong shaped face. In case, the face shape is round or pearshaped and you want to pull off a bun, leave a few strands of hair in the front and let it loose on the face.
If you do not have very thick hair, what's the most suitable type of bun that can make your hair look thick?
A messy hair bun will do you good. If you are looking at something more neat – curl your hair and place the curls in form of a bun. Also, a knotted bun is another great hairstyle to carry with this hair. You may braid your hair or backcomb a pony tail and twirl it around to make it into a voluminous bun. Bohemian buns or Victorian buns are also workable.
What are the current hair accessories that's trending now?
Subtle yet elegant looking accessories are the in thing now. Accessories are meant to enhance the hairstyle , not make the your head look like a Christmas tree. A small brooch on the side or on top of the bun or tiny clips with pearls and diamond studs on the braids. In case, the look demands flowers on the hair, go for real flowers instead of the fake ones. They look fresh and beautiful.
Text: FWD Media        Photos: Various Sources