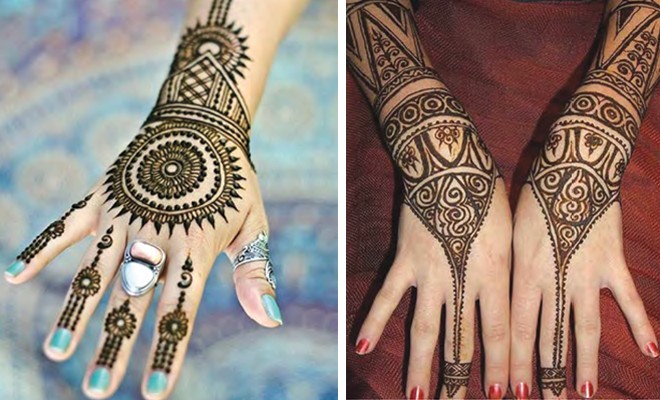 Mehndi Designs around the World
|
The traditional patterns of mehndi have become more and more intricate and decorative with time.
If there is one thing that is common in Indian, North African, Arabian and Pakistani wedding it is the use of Henna or Mehndi. It is documented that henna is used as a cosmetic tool to enhance beauty for past 6000 years. And it has definitely survived the test of times due to the modernization of it. There are now many types of mehndi patterns, some of which are Arabic, Rajasthani and tattoo. Each beautiful design has degrees of intricacy and is made unique for the bride. FWD tells you all about the latest designs in vogue.
Indian Mehndi Designs
Latest trend of Indian Mehndi designs are based on fine styles that look elegant without an excessive amount of henna. Big dots in designs are also common now. Back side of hands has fewer flowers. Curved lines are used to cover the back sides of the hands. Coloured glitters and small diamonties are also pasted to give a glamorous look.
Arabian Mehndi Designs
The motifs and patterns used in Arabian mehndi are inspired by the Arabian culture. Arabic Mehndi designs include the work of different flowers, leaves and vines etc. They have little detailing  with large circle on palm and small dots surround.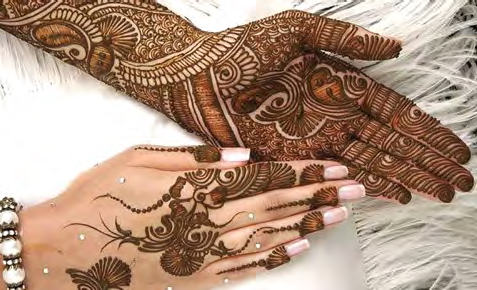 Pakistani Mehndi Designs
Pakistan Mehndi design takes time to make. These designs are amalgamation of Indian and Arabic Mehndi designs. These designs are more detailed and complex. These designs are more stylish than the Arabic and the Indian designs. Pakistani Mehndi designs decorated with glitter look very attractive. These designs include the flowers and leaves work prolonged to the arms
African Mehndi Designs
To start with, African Mehndi designs are fairly similar with the Indian Mehndi trend they have their own appeal and implication. Most of the African Mehndi Styles are recognized to have very complicated designs as well as patterns. Latest trend of African Mehndi design include the work of making different geometric shapes, boxes, lines and dots, etc.