6 Couples who look way back into love
|
They say matches are made in heaven, we bring a few of them down here.
1 Year : Nanditha Mohan and Babu Shankar
May 11th, 2014
Boy meets Girl. Boy talks to girl. Over the phone. A lot. The boy becomes friends with the girl. Boy moves to another town for studies. The phone calls get longer. The heart grows fonder and before you know it, the parents meet to fix it all up. No, there was no big proposal, claims the couple who had been dating for around five years. Nanditha and Babu had a traditional May wedding they wanted with the whole family and friends joining in. There is nothing they would change as they enjoyed every moment. And one year since the wedding they have matured, according to Babu. Nanditha laughs saying that it his explanation for the comfort level that they have found with each other or rather the shorter conversations which is not much over the phone now anyways.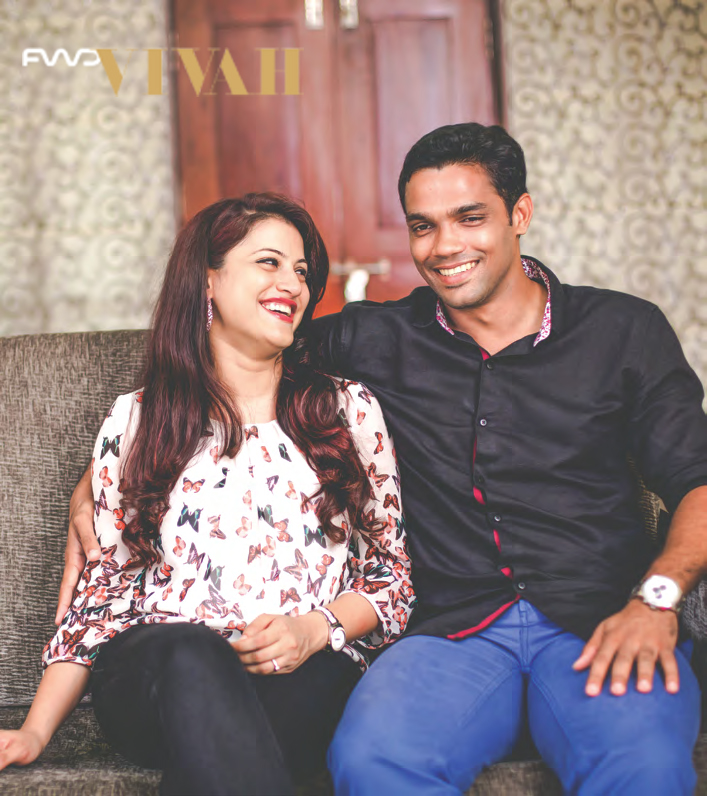 They both agree that marriage is very different from being in a relationship. Their first year was spent in learning to sync and a lot of traveling. It was a bit of a struggle to learn how to adjust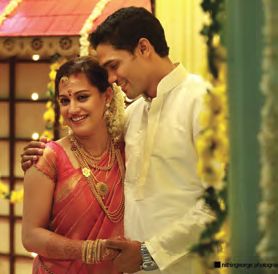 to each other's schedules. Nanditha is quick to point out that it was Babu's patience that helped. She soon joined back at work and is really glad that she took a break to ease into the marriage.
The first anniversary is a big milestone and the couple made huge plans to celebrate it in the Maldives. And like everything we plan in life, they ended up having a brilliant, relaxed time at Marari with a homemade cake from a cousin, candle light dinner at the resort and Babu's broken leg.
5 Years : Arun and Supriya
September 16,2010
Arun and Supriya have been in wedlock for five years now. And the journey has been beautiful. "A few months of courtship and a beautiful, traditional wedding, life has just gotten better in every way," Arun tells us. With a shared love for travel and new places, the couple has been constantly on the move, discovering new places. Each time they discover places they also discover themselves. It's like falling in love all over again.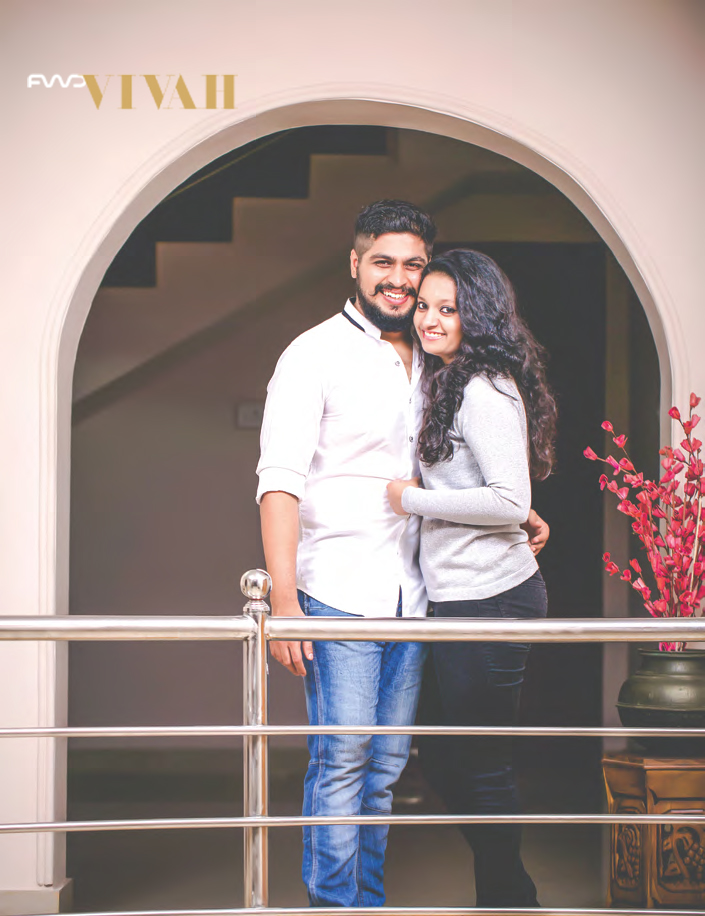 Apart from the wanderlust, there are not too many shared interests. They have very few things in common and he laughs about it. "We are actually at extremes when it comes to our tastes in most other things, but I think that has only helped our relationship." So how was the courtship before the wedding? "Oh, unlike the lucky young chaps these days, we never had Whatsapp or something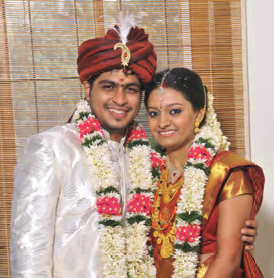 of that sort then. So it was mostly walking around with the phone glued to our ears. "She was in Mumbai while I was here in Kochi. But the wedding happened soon enough. "The memories of the wedding are dazed. The stage, the crowd, and the spotlight solely being on you, it freaked me out."
"Though we had known each other for a while before the wedding, getting married and living together was a different ball game altogether." Like all couples say, marriage opens your eyes to something new, they admitted that discovering little things about each other was something both of them cherished. When asked about one quality in Supriya that he truly admired, Arun said there were too many, but if he had to choose one, it had to be her straight- forward nature.
10 Years : Lakshmi Menon and Girish A R
November 27, 2006
They have been in love for sixteen years now, six years before the wedding and ten after it. "Oh, we had no idea how things would work out, we were just in love. We had no idea if our families would agree and what we would do if they didn't."
But luckily for them, things just fell into place and they got married. Lakshmi says that there have been no surprises after marriage; he still is the same guy.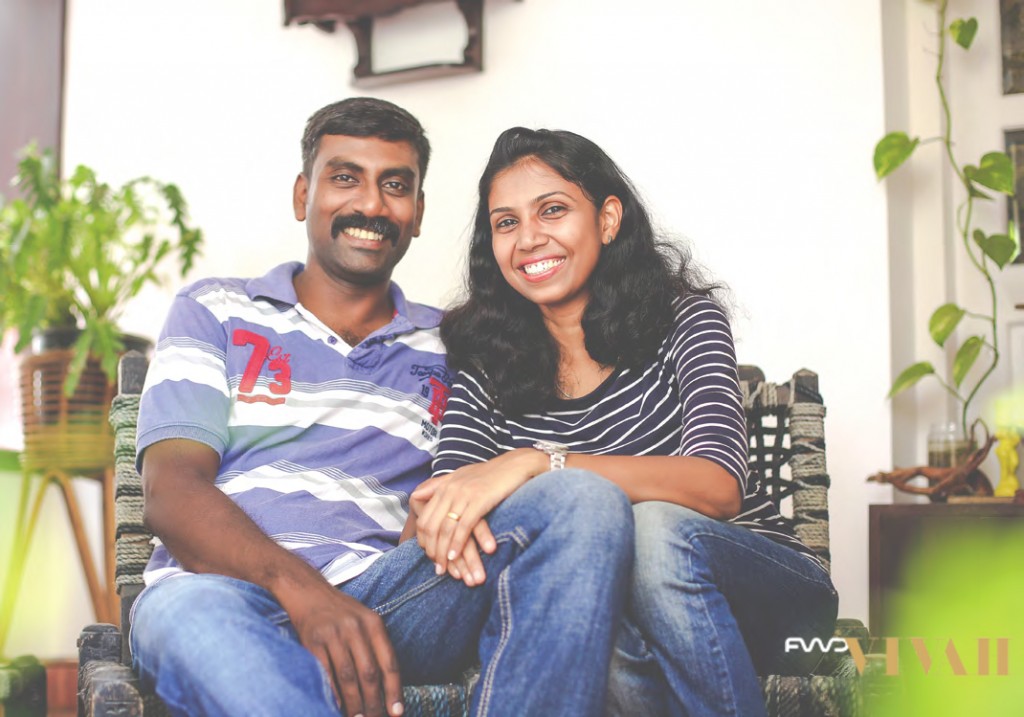 This couple actually dispels the whole idea that matrimony has to be based on shared interests. Lakshmi says,"We are entirely different people. I am a classical dancer, enjoy classical music and art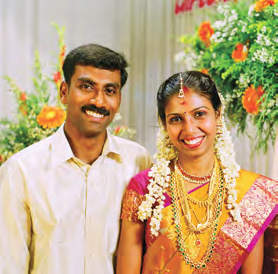 movies and like reading a Dan Brown or a Jeffrey Archer. Girish is someone who loves Tamil action movies, Dapankauthu songs and relishes Bobanum Mollyum. But our varied interests have never come in the way of our feelings for each other. We have always respected each other for who we are. In fact, that is something I admire about Girish, the fact that he is absolutely confident of
himself and his sensibilities." She tells me about how hard it was in Kochi in the early 2000's to spend time together. "There were none of these swanky malls to hangout then. It was just the ever-dependable Marine Drive that we could seek shelter in. The city itself has changed, so much now." Well, love seems to just grow and they are also blessed with two beautiful kids, Harini and Srihari.
25 Years : Latha and Prakash
January 26. 1989
Latha aunty can't stop laughing as she tells us about her "pennu kaanal chadangu" (the boy coming over to see the girl drama). She was very much the portrayal of the demure Malayali young woman of the 80s that you see in the movies then: shy, face fixed in a downward gaze as she drew circles with her toes, hands intertwined and the trademark hurry to get back to the kitchen after the tea-presenting ritual. Between all this poor Prakash uncle barely managed to catch a glimpse of his prospective bride. All he managed to see were a pair of beautiful hands. And going by a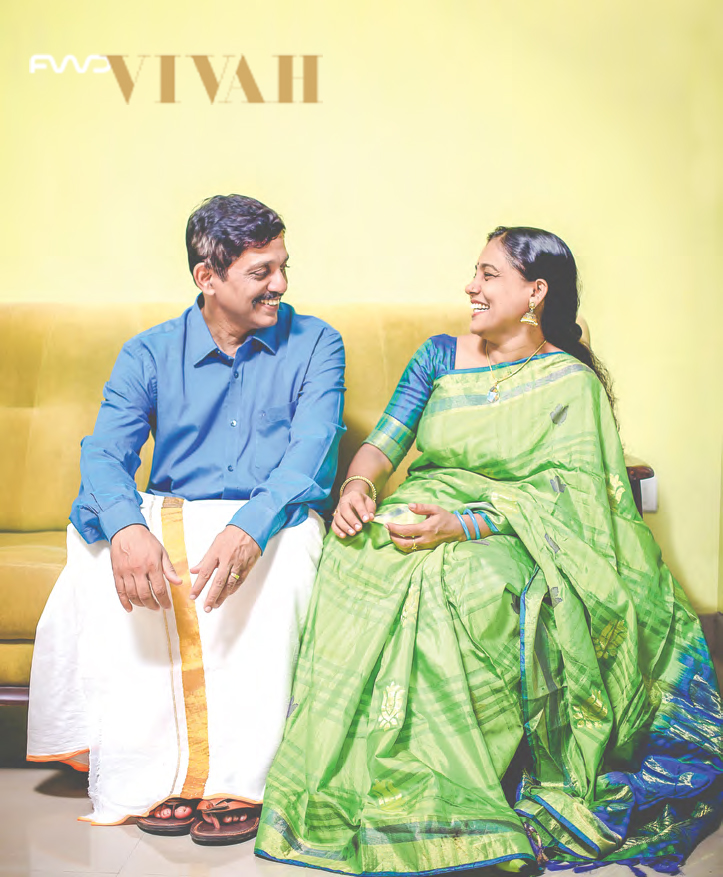 popular saying in Malayalam, "If what you have seen is beautiful, what you have not is even so?" Uncle decides to risk it and say yes. What followed then was the usual arranged marriage ritual, uncles shaking hands, relatives visiting each other and to cap it all, you then have the ambassador car with the sign board 'Prakash weds Latha'.
Like in most arranged marriages, love crept in soon after. Prakash uncle not only saw his bride's face that he once missed, but also discovered a lot of things about her including that she is trained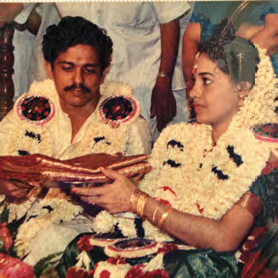 in classical music.
A banker who has always had music in his heart, he wholeheartedly backed his wife in starting a music school. Now, she continues to initiate tiny tots into the world of music; the bubbly, chirpy Latha aunty and the softspoken, reserved Prakash uncle made the perfect pair, God bless the wise men who make proverbs. It has been twenty-five years since their wedding, yet it is still like their Ooty-Kodai honeymoon never ended. Almost unfailingly, they have been travellingly every year and they are still beautifully in love and continuously traveling to newer places.
50 Years : Thangam and Baby James
February, 13th 1961
Fifty-four years ago, Baby James walked in with his 'podimeesha' and met an eighteen-year-old dame, Thangamani. Without any capricious thoughts, he knew she was the one. They got married in Trivandrum, on a 13th which many people found ominous but to them it's been fortunate. Her first impression of him? She quipped, "He was so thin, my family joked that the wind could blow him away." True indeed, I saw their mini square shaped photographs taken by the box camera then. She later joked that all these years, his secret to staying slim is also their greatest secret in their marriage. " In every marriage there are always arguments. So we decided from the first year of our marriage if we got into a fight, one of us will take a long walk until our anger has settled down. Then we'll come back and discuss our problems. And my husband's surely been walking a lot. "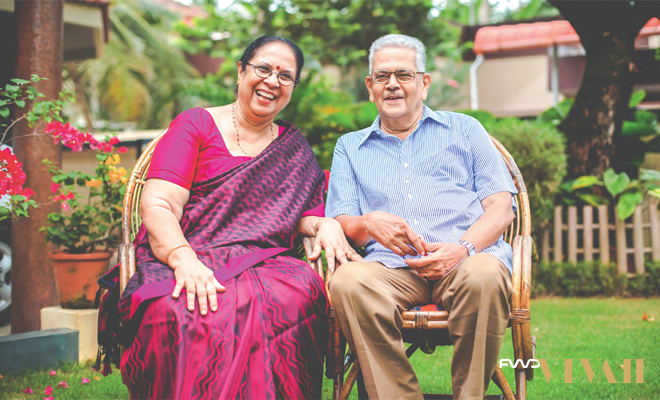 "And if there were rains?, "I asked. James uncle grinned and said, " Oh well that cools my mind faster and it spares a long walk. In fact a day it rained, we had the shortest argument." Very candidly, they completed each other's conversations and broke into laughs with their stories. On their tenth anniversary, Thangamani aunty was elated when she was gifted an exquisite and rare saree by uncle. Controlling her laugh, he continued, "Imagine, it was stolen the day she put it out on the terrace to dry." She looked at him," But the thought is still precious."
From Percy Mason novels to newspapers, they still have their conversation about politics and popular culture. James Uncle said, "I wish advertisement copy's were more creative. These days, the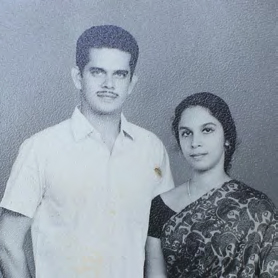 quick witted are the Amul ones, they're quite tasteful."
Ah, wordplay is still timeless and we all break into a hearty laugh. James uncle said, "You know what aunty was called then, Kolynos Punchiri. She always bursts into a big laugh." A little confused, he then told me, " Molay, that was a toothpaste brand in the sixties." It then struck me, they have been loving each other since the sixties. They've crossed decades, watched their children grow and two grandchildren. She said, "Over years, marriage is letting go off each other's egos, you are one when in one." It's true, one never knows how much love the heart can hold.
Text: Atheena Wilson, Maria John, Varun Kannan      Photos: Jinson Abraham and Arun Menon