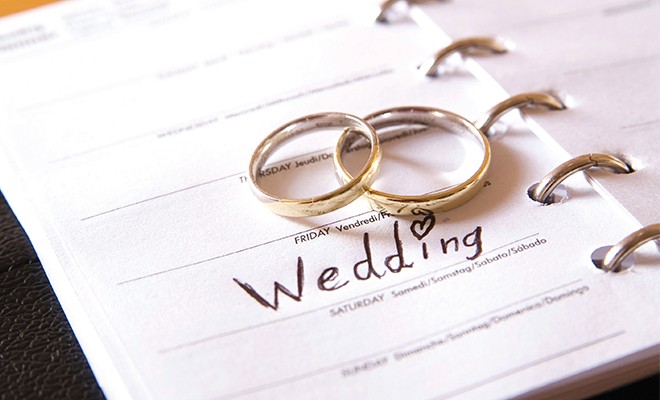 Wedding Plan Calendar
|
Here is a checklist for groom to kick start the wedding preparations!
12 Months Prior
Pick the venue for the marriage. This is on the top of the list as the best places fill up fast and we are sure that you would want to have the best for your day! Choose your band of brothers including the best man and groomsmen. Delegate work to your gang of friends in order to get everything done systematically and have in place rather than rush at the last minute and miss out anything important.
09 Months before Prior
Book appointments with the caterers, florists, a band, a magician, a tight rope walker – whatever you have planned for the big day. You may also need to check dates with a priest if you are having a religious wedding. Draw up a guest list, prepare an invitation and select the printers.
06 Months before Prior
Do a thorough study of the place prior to making bookings. Make the necessary arrangements either online or through a travel agent. Check your passport validity dates if you are choosing a destination abroad; as well as immigration rules and regulations.
03 Months before Prior
Arrange accommodation for the out-of-town guests and finalise your guest list. Pick the cards from the printers, get down to making a mail list. Head out to the jewellery and give your measurements for the ring. Before deciding to tie the knot, get a blood test done for your own safety and that of the bride.
08 Weeks before Prior
Photo sessions! Be ready with sparkling white teeth to flash dazzling smiles. Cut down on coffee or other staining products. Take good care of your oral hygiene if you aren't doing it already. If you haven't already bought your wedding ring, well, it's time! Ensure the engraving is error-free. The last thing you want to see is a furious bride at the altar staring at a typo in her name.
02 Weeks before Prior
Have fun at your stag party. Do some crazy stuff but nothing that you would regret later. Celebrate the last days as a bachelor. Take your soon-to-be wife out on a romantic dinner and have an anticipatory meal before you unite in marital bliss. Sweet and simple would be the safest bet at this point of time.
01 Weeks before Prior
It's completely normal to feel tensed particularly a week before the wedding. Double check the honeymoon reservations and start packing your bags. It would be sweet if you could give a brief speech on your wedding. Prepare a speech now, unless you plan to give one impromptu! Get a haircut and be groomed.
01 Day before Prior
We are guessing that the bride is having her pre-wedding jitters at this point. What could be better to cheer her up than a cute loving message from her fiancé? Write out a sweet little note as simple as "I Love You" or something on the same lines and leave it somewhere she will find the next day. If you have the jitters go for a long walk with your bestie.
Words by FWD Media      Photographs from Various Sources