Celebrity's Favorite Home Made Recipes
|
We ask our FWD Vivah celebrity brides to share their homemade skin and hair care remedies that make their skin glow and look resplendent.
Nyla is one of our favourite cover girls. We have seen her up, close and personal and can confidently declare that she has the most natural glow to her skin. Being the busy bee jetsetter that she is, we couldn't help asking her how she kept her face this composed. She gives us one of her infectious laughs and clarifies that she doesn't have any strict regime to maintain a glow. "After an
exhausting day of work in the sun, my skin usually gets tanned. I apply a paste of kasthuri manjal and curd to help remove the tan. It works really well for me." Manjal or turmeric  is a popular and time-tested ingredient to enhance skin and hair, primarily due to its antibacterial properties. Adding curd and applying the paste on the face helps remove the dead skin cells, smoothes out fine
lines, tighten pores and hydrate dry patches.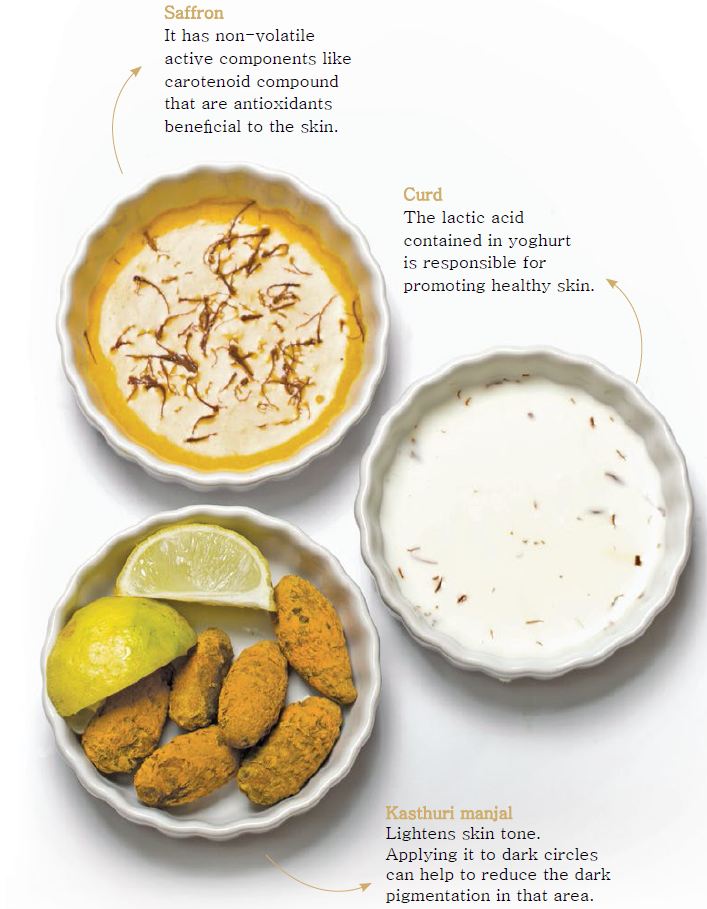 "The mother of it all – besan!" swears Shruthy. Her flawless skin graced our pages in the previous Vivaah Issue, in the feature titled 'And she became gold.' Her secret remedy? "We would mix turmeric in malai or cream from milk. That was our first face pack. My sister and I hated it and would always whine while applying it as couldn't stand the smell of milk."
As well as a glowing skin, Shruthy's lovely locks are one more of her finest features. She advises, "For your hair you first have to decipher what type of scalp you have. Unlike our skin, hair is not porous. Instead of oiling the hair excessively, only the scalp should be oiled. Keep it for a good twenty minutes and then wash it with a shampoo that's suitable for you hair. A useful tip – use different types of oils while massaging your head, from almond to olive oil. Rubbing egg yolk acts as a natural hair conditioner while pouring some beer onto the scalp helps hair shine. Also, eat healthy (especially green leafy vegetables), drink plenty of water and exercise regularly as it helps open up the pores!"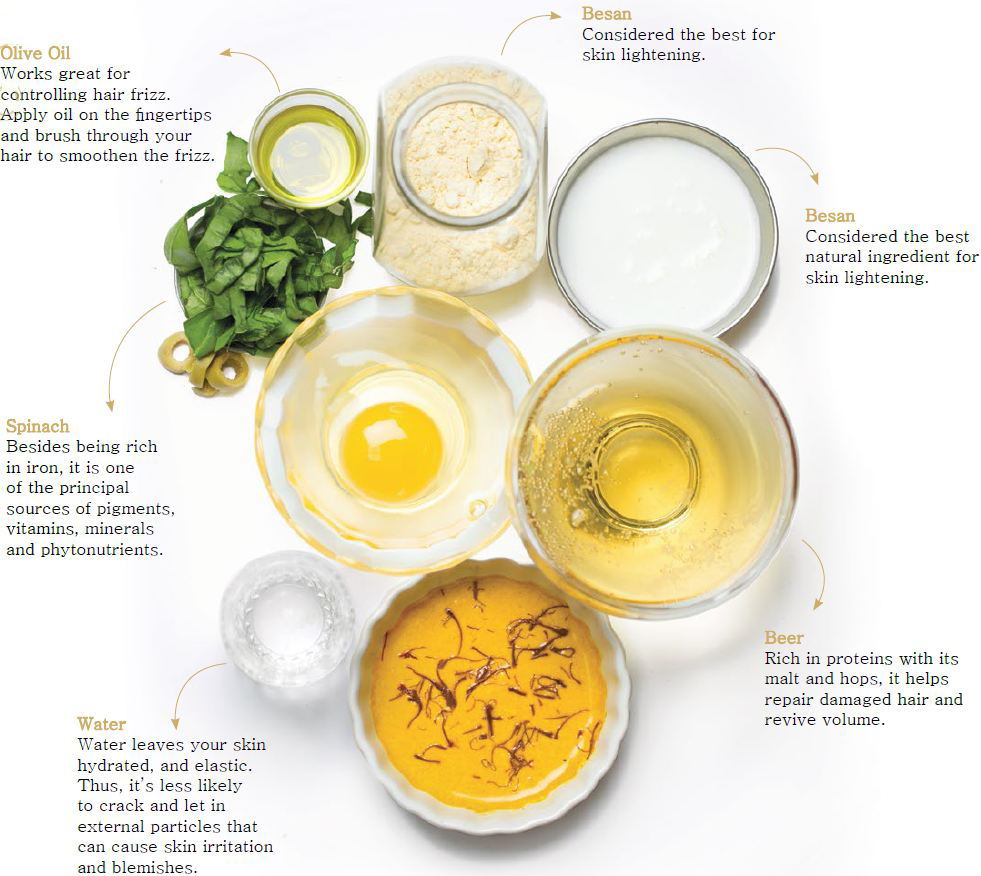 Whether she's playing a tomboy or turns into an epitome of womanhood dressed up like a bride, there are two characteristics of Deepti that stand out – her impeccable skin and coiffure-envy hair. She describes her secret recipe, "Honestly, I do not do much. The only thing, and the most important one for a great skin, is eating healthy and eating right. If there is anything that I would stand
by, it would be coconut. For the skin, coconut water is an elixir. A good way to get rid of pimples is to use a multani mitti mask and yoghurt. A homemade alternative is to prepare a paste of chana dal or bengal gram, yoghurt and turmeric. For my hair, I give credit to my mother. She used to prepare virgin coconut oil at home. I remember how she would oil my hair and then braid it up. Back
then I found it very embarrassing but now I am thankful for it."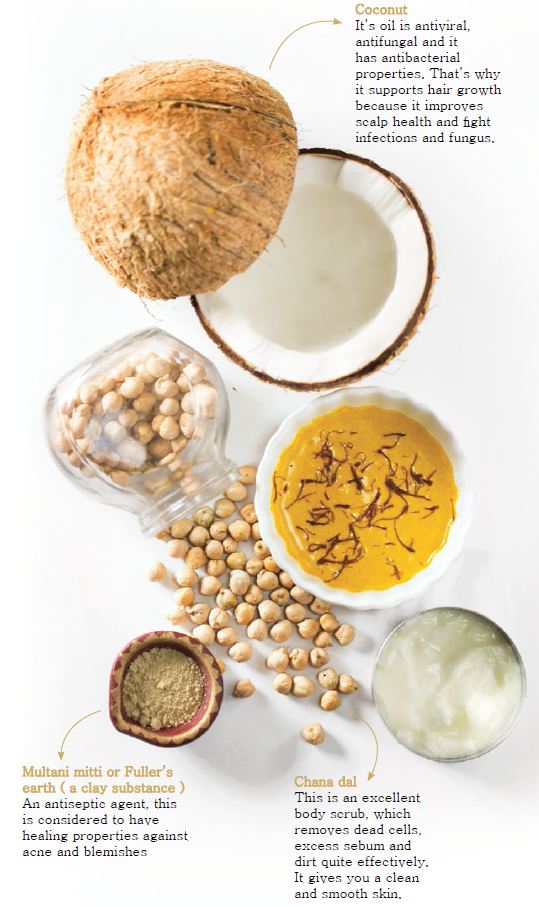 "The most important skin regime is to keep your skin clean and clear. During extensive shoots, makeup is applied a lot, thus, the ground rule is to wash the face before going to bed. You have to let your skin breathe. For hair care, my grandmother taught me the importance of oiling y hair and wrapping it with a hot towel," explains Nikki, who boasts a radiant and youthful face. Homemade
recipes for removing makeup is the combination of cucumber and baby oil. Peel and grate and make cucumber juice, add a few drops of baby and apply it on your face evenly. For best results, use a cotton ball or a brush with soft bristles to apply on the skin. For difficult makeup, castor and olive oil can do wonders.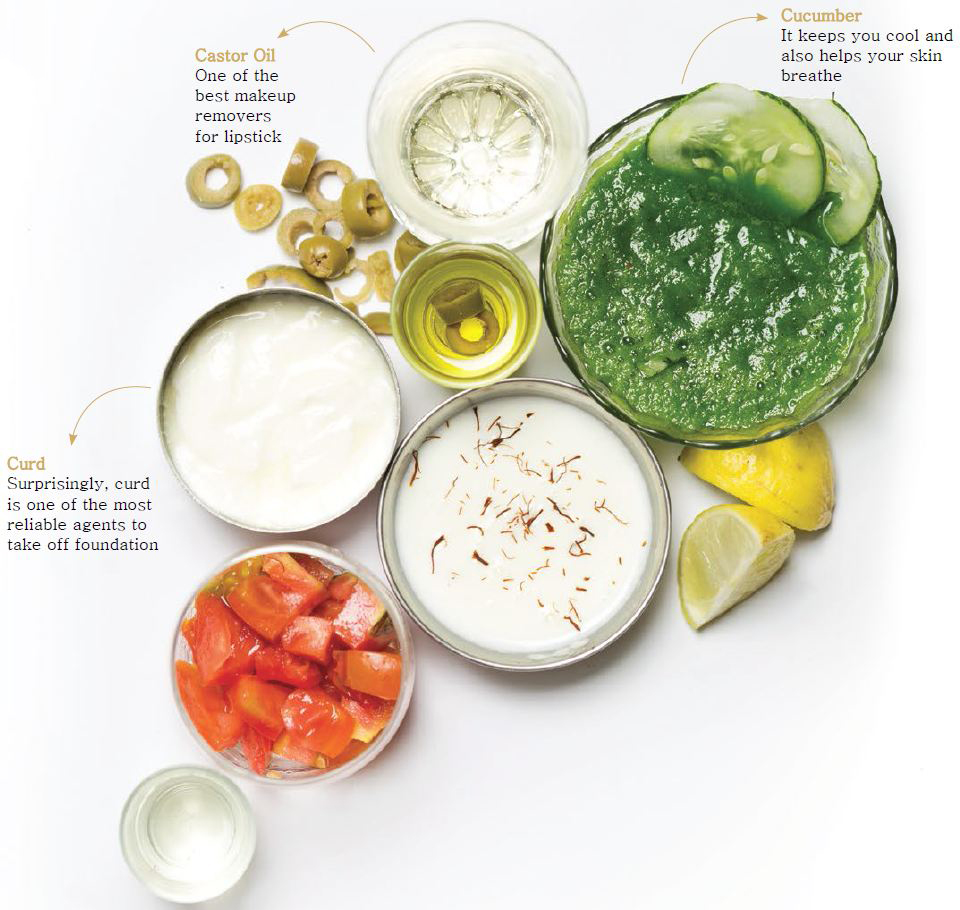 Words and Styling by Atheena Wilson      Photographs by Arun Menon