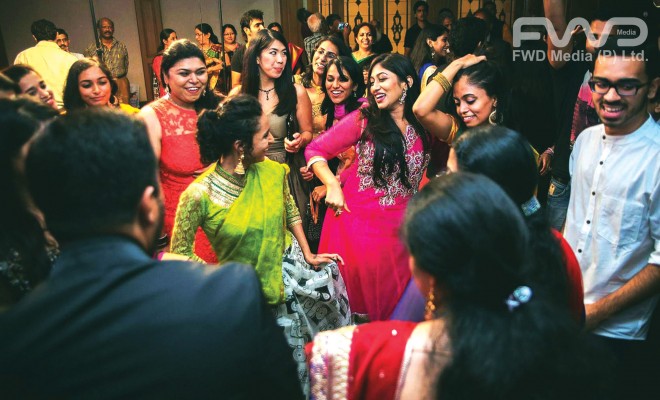 Dancing Tortoise
|
If love was wrapped in words, Mr. Sandip J (CEO) and Mr. Sreehari Venugopal known among friends and clients as Hari(Chief Marketing Officer) of Dancing Tortoise got us shelling out our fantasies!
Text  Atheena Wilson   Photos Dancing Tortoise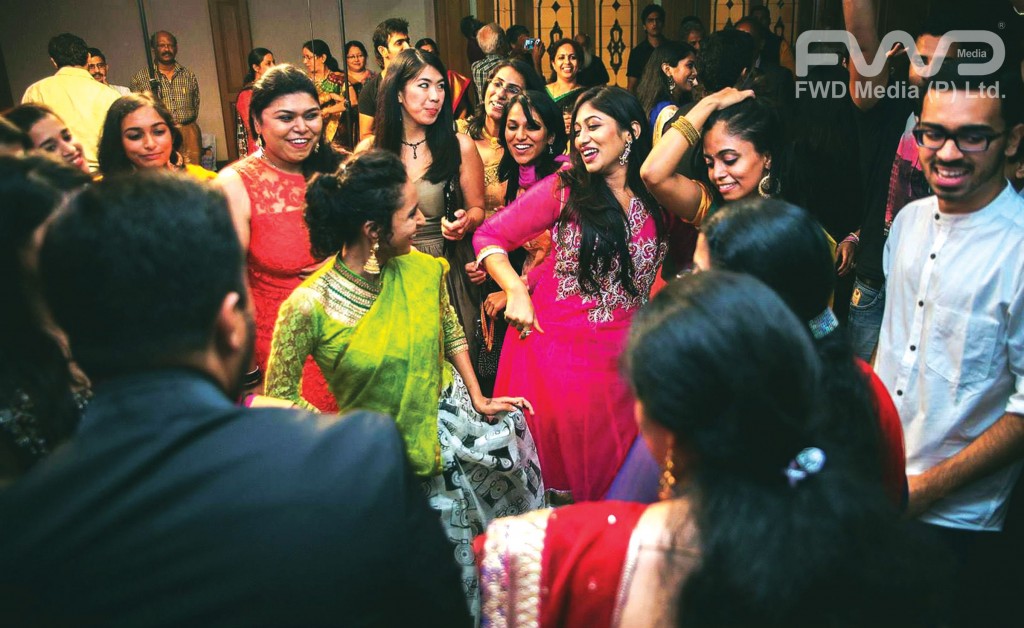 In an interview of three, I was rather in a light conversation with a duo who wins hearts. You could never skip Sandip's humor and flair for storytelling coupled with Hari's brimming ideas and punchlines.  Their filigree of acute details left me spellbound. Wedding planning isn't a cakewalk but still sumptuous.
I did mention three earlier. It was seated next to my recorder, a golden tortoise, well hello! It's quite obvious the name 'The Dancing Tortoise' hailed from the fable,The Hare and the Tortoise.  But instead of hearing about a race we got into one, calculating 25 years in seconds!  Hands down Mr. Sandip won the challenge when he said, "777 million seconds. That's the amount of time the wedding is planned by the family!" Keeping up with the race of time is a challenge, thus wedding planners are on always on their heels. Inspired by a little anecdote, he said, "The tortoise knew the hare was a challenge, but as a brand, Dancing Tortoise takes up the challenge with perseverance and dignity. Wordplay it was when he said, "We will be able to provide our clients with professional services and accept the challenges no matter what it is. "
Analogies aside, they also love to toss clichés. Unlike most weddings, they consider a wedding successful when there are 'winning moments.' Proving their competencies in integrated marketing communications and managing special events have helped them deliver beyond their customers' expectations. The advent of extravagance to the type cast notions of excellent staging, decor, attire and menu isn't what quintessentially makes a wedding. Hari mentioned, "We try to set a vision for our clients, flowers and candid photography are elements to set the mood. The essence of joy is when we try to bring an element of surprise. " Hence, they introduced, Shubh Aarambh, exclusively for weaving wedding moments.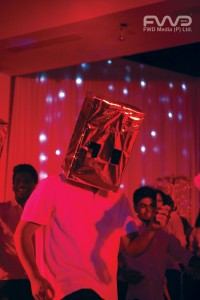 'Hare'- Raising Times
It's common to think out of the box, but ingenious ideas also come in a box. For the Mathewson's Madhuram Vappu, they organized a flash mob for the bride. All the cousins broke into a dance, lifted the boxes off their heads and finally a mystery man was revealed, the groom itself.  Her smile wasn't out of place. Organizing neon themed parties for a Madrum vappu seems a little unconventional too but as Mr. Sandip quoted, "It's not recreating traditions , but creating a balance."
While at Dreams Hotel, Vandana, a playback singer, had a spectacular wedding welcome. Her childhood friend hosted the wedding and gained an unexpected response from the family members on both sides. They all joined together to form a huge love tunnel to welcome the couple. The bride's side was from Doha, and they screamed 'Yalla' while the groom side was from Kochi, and they crooned, "Oho." Sandip said, "What still stays personal in a wedding is the degree of 'youness' in a wedding." Then there are some wedding where it rains on one's parade. Justin still had a dream brown and ivory outdoor themed wedding during the monsoon.  Despite it being so tricky to execute, they pulled it off with a little spark too. Fireworks during the rains, now that's out of the box!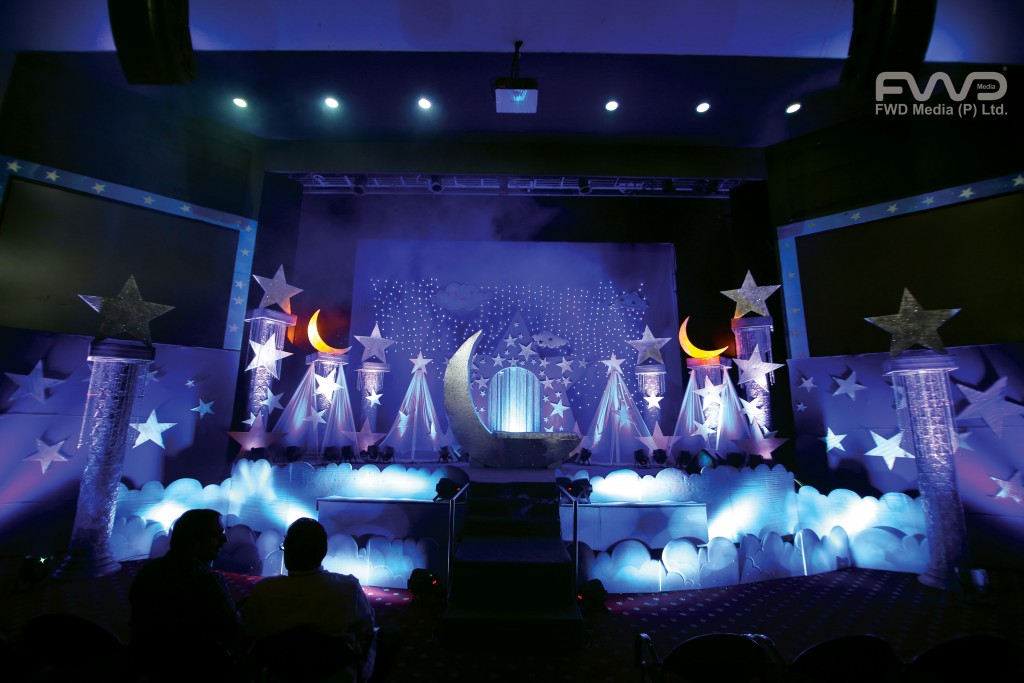 Coming Out of One's Shell
As Hari was going through his laptop, he showed me a comic strip they designed for a couple that sketched the couple's love story. Hari mentioned, "Planning happens in two ways, you have a wedding planner who comes in and gives you a list of themes or you try to bring in the bride's  and groom's personality elements. That's what fits perfectly,  I would rather call that a perfect setting. "
The wedding they organized for Kavya Madhavan's brother; Mithun was spun from his dreams. Just like our conversation was theirs. They realized that Mithun and Riya are both dreamers and romantics at heart. Being a fashion designer, he was a perfectionist in envisioning his wedding also. He wanted a grandwedding sans flowers. "Sometimes in a casual conversation you capture a moment or a song that transforms the wedding completely," Sandip added. They thought of a celestial fantasy and came up with Moons and Stars. The couple was literally over the moon ( imagine sitting on one!)
Love and Steady
The challenge of a wedding is, Hari and Sandip smiled in unison, and first replied with a common answer, "The challenge is the  budget." Beyond logistics and execution, they believe weddings should truly be worth it.  That's why they even arrange pre marriage counselling sessions, and hope for the best that every couple's vision is fulfilled.
"Factors such as the attire, lightings, stage setting etc are crucial but the most important thing is if you got the right partner you got a dream wedding." Ask for pointers from Sandip! , on his wedding day he asked his nervous wife ,"How's my shirt?"  , the simplest ice-breaker. She still remembers and laughs over that moment…Marriages are priceless.  Just like a journey where the road meets the sun, marriage slowly and steadily wins the race..
Quickies
A bouquet you can't get your hands off:
Classic white roses
The wedding song:
All of Me by John Legend
Trend that you don't enjoy: Over the Top Weddings
 Most important part of the weddings:
Happy Smiles
Iconic Wedding Dress:
"My shirt" Sandip says  (there's a joke tucked in the article!)